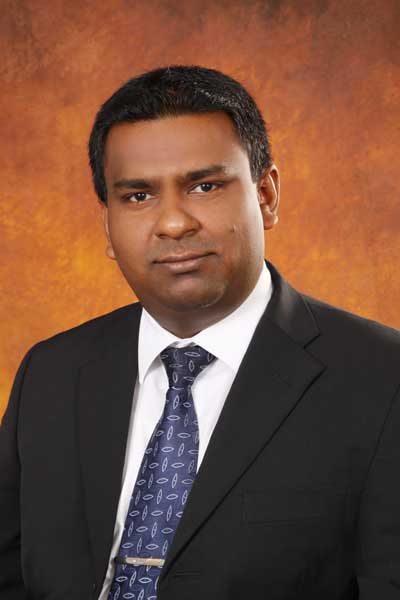 Cyberoam Sri Lanka and Maldives Regional Head Prasad Wijesuriya
Cyberoam, a Sophos company and a leading global provider of network security appliances announced the appointment of Prasad Wijesuriya as its regional head for Sri Lanka and Maldives. Wijesuriya will lead the development of the Cyberoam channel in the region and support partners in growing their business.

Wijesuriya has over a decade of experience in the ICT industry. He is a Fellow of the Institute of Management of Sri Lanka (IMSL), and a Certified Member of Sri Lanka Institute of Marketing (SLIM). Prior to Cyberoam, he was the senior manager solutions sales at Thakral One Sri Lanka, a multinational corporation headquartered in Singapore, responsible for growing the banking and IT security business of Thakral One in both Sri Lanka and Maldives.

Wijesuriya will now be responsible for enhancing Cyberoam's stronghold in the region's security market which continues to grow. The push towards digital transformation is set to fuel further growth. As private sector and government organisations are expanding their networks, there is an increased demand for better network and end point security solutions. He will coordinate with the partner community and extend Cyberoam resources to facilitate partners in Cyberoam's marketing, branding and sales activities in the region.

Expressing his views on the appointment, Sunil Sharma, Vice President, Sales and Operations, India and SAARC, Cyberoam, said "I have known Prasad as a dynamic and energetic person who is always ready to work with teams on ground. Over the years, he has built a good rapport in the regional market. We are certain that he will inspire our partner community in making Cyberoam the leading and most preferred security brand, across the region."

Cyberoam is playing a central role in reinforcing the IT security of a wide range of businesses spread across more than 125 countries. Future ready features like EAL4+ certified firewall protection, patented layer 8 technology, high performance hardware appliances, scalable security architecture and flexible network connectivity have made Cyberoam a trusted name in network security. Together, Cyberoam and Sophos offer customers a complete security solution that includes leading security technology for endpoint, network, mobile, encryption and data protection for businesses of all sizes.

Cyberoam Technologies, a Sophos company, is a global network security appliances provider, offering future-ready security solutions to physical and virtual networks in organisations with its Next-Generation Firewalls (NGFWs) and Unified Threat Management (UTM) appliances.

The virtual and hardware Cyberoam Central Console appliances offer Centralised Security Management options to organisations, while Cyberoam iView allows intelligent logging and reporting with one-of-their-kind, in-depth reports. Cyberoam is accredited with prestigious global standards and certifications like EAL4+, CheckMark UTM Level 5 Certification, ICSA Labs, IPv6 Gold logo, and is a member of the Virtual Private Network Consortium. For more information, please visit www.cyberoam.com.