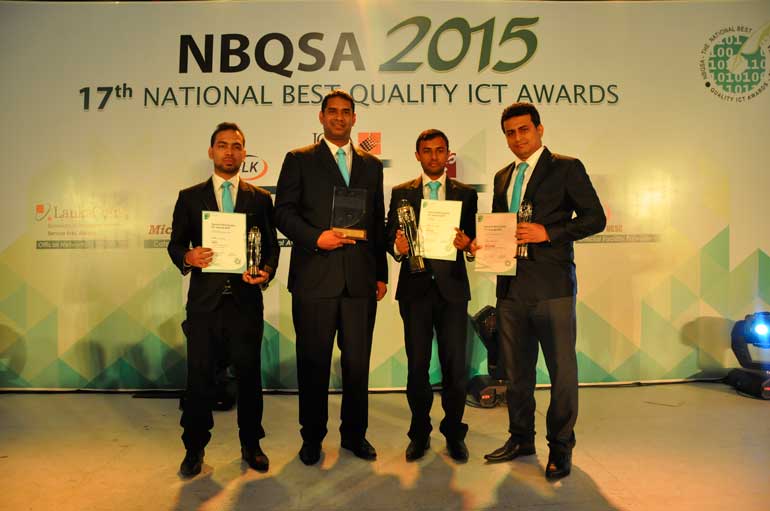 Pay Media team with their awards at the NBQSA 2015
Making waves in both the local and global market after less than a year of operations, and winning a range of top notch awards at the recently concluded National Best Quality Software Awards (NBQSA) is PayMedia Ltd., that joins the list of being one of the hottest new technology startups to watch.

Focusing on providing custom based solutions for banking, finance and telecommunication domains such as Cash Deposit ATM/Kiosk switching, Bill payment switching, Currency detection firmware Kiosk Hardware, POS, Desktop, Web, Mobile and Kiosk applications, PayMedia has proved itself to be a truly innovative organisation offering advanced technology solutions to their specialised industry verticals and helping them reap high returns on investment.

The awards bagged by PayMedia included winning the Gold in the Start Up Category, the Bronze in the E-Logistics and Supply Chain Management Category, and the Merit Award in the Financial Applications Category. Kanishaka Weeramunda who is the founder of PayMedia also won the award as the most Valuable ICT Entrepreneur of the year.

Two of their products were nominated to complete in the Asia Pacific ICT Award 2015 under the startup category and the E-logistics category.

Speaking of their innovative market solutions and the industry verticals they specialise in Kanishaka said, "We offer the Banking and Finance industry solution for cash and cheque deposits and bill payments through designated kiosks at their premises. Our system has the feature of integrating any core banking platform on ISO8583 and Web Services. The first project was with Sampath Bank PLC to facilitate real time deposits for savings and current accounts. This included us making them a specialised machine to meet this requirement with bulk note acceptor.

He added, "Our next core industry vertical is the telecommunications industry for which we offer solutions that comprise of integrating Top-Ups pin generation applications and online payment platforms. All the customers need to do is enter their mobile number and insert the cash and the system will accept the payment and offer a printed receipt. All the updates will also happen 'live'. Kanishke said that in this industry they currently serve one of the largest global scratch card distributors in the Europe where PayMedia designed and built a complete pre-paid system for their customers. This venture culminated in them eventually supporting 72 Telco's in the Netherlands and 54 Telco's in Belgium. System facilitate 174 mobile operates worldwide to issue their pin numbers in Europe.

Outlining their future plans Kanishke stated that they look forward to the challenge of designing market solutions that will replace bank branches into a machine 'making banks virtual'. "They're more convenient, faster and safer, more secure and they will allow to provide better services at a lower cost. This then is the future and this is what we will aim to be involved in," he concluded.

PayMedia was incorporated in June 2014 with three other members, Dasun Rathnayaka, Denesh Karunathilaka and Thilanga Liyanage who had been the pillars behind the success story.