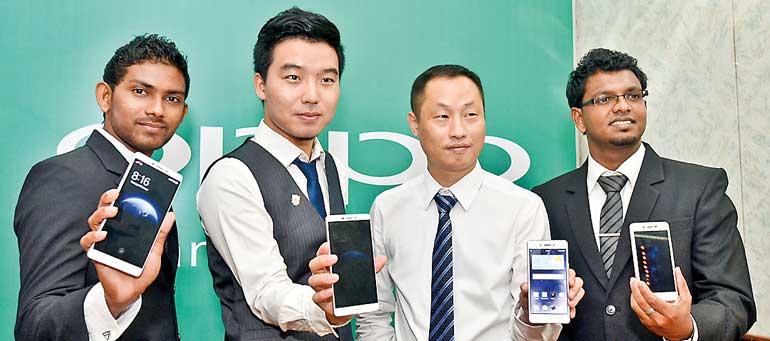 At the Oppo F1 Selfie Expert launch from left: OPPO Sri Lanka Product Manager Sadun Manage, OPPO Sri Lanka Brand Manager Kevin Law, OPPO Sri Lanka CEO Daniel Cao and OPPO Sri Lanka Senior Brand Officer Tharanga Weerasinghe – Pic by Daminda Harsha Perera – Pic by Daminda Harsha Perera
By Himal Kotelawala

The brand new Oppo F1 smartphone, the latest in its mid range F series, was officially launched in Sri Lanka on Thursday, priced at Rs. 36,990. Marketed primarily to millennials and urban youths with a focus on mobile photography, the Oppo F1 boasts a 13 megapixel camera as well as an 8 megapixel front camera optimised for taking selfies.

The phone runs Color OS 2.1, built on top of Android 5.1 (Lollipop), it houses a Qualcomm Snapdragon 616 series eight-core processor with 3GB RAM and a built-in memory of 16GB, which can be expanded up to 128 gigs. Designed with photography – particularly selfies – in mind, the F1 includes Oppo's Beautify 3.0 platform and screen flash. The rear camera features an ISOCELL sensor for reducing pixel noise and has a phase detection autofcous (PDAF), delivering a focus time of just 0.1 seconds, equivalent to a DSLR camera.

The camera app is Oppo's own Pure Image 2.0+ platform, offering a range of filters and plug-ins for pro and casual users alike and features an Ultra-HD mode which creates 50 MP photos composed of four consecutive photos. Other interesting modes include Super Macro, HDR, Double Exposure, Slow Shutter and Super GIF.

In keeping with Oppo's design standards, the 60-degree angles of the F1's chamfered edges, the company claims, are "the result of precise calculations and numerous rounds of testing to ensure an unbeatable hand feel without skimping on any of the visual impact."

After vigorous search for the perfect aluminium alloy for the phone, the designers eventually settled on a Japanese material that, the company says, went through 40 polishing procedures, giving it a 'metal silk' texture.

It was reported in January that Oppo sold 50 million units in 2015, representing a year-on-year growth of 67%. Propelled by this success, Oppo has broken into the top ten smartphone brands worldwide, ranking eighth in global market share, according to a recent report by TrendForce. With its 'simple, focused' strategy, which prioritises product quality and user experience, Oppo's performance has been consistently good. The company's VOOC Flash Charge quick-charging solution and a versatile, feature-packed camera platform, among its other innovations, have contributed to the brand's increasing popularity.

Strategic brand partnerships have also been a contributor to Oppo's rise in 2015, and are continuing to have a huge impact on the company's global brand awareness. Among the most high profile of these is OPPO's ongoing three-year partnership with FC Barcelona, which has afforded opportunities to connect with the fans and followers of one of the most popular football clubs in the world. Meanwhile, a recently announced partnership with the International Cricket Council (ICC), which the company expect will allow it o play an influential role in the upcoming Twenty 20 World Cup 2016, opening up fresh opportunities in India, Pakistan, Sri Lanka, and other cricket-loving markets.

"We are very excited about the introduction of the new F1 to Sri Lanka. We have had phenomenal response to the announcement of the launch on an international level and we expect to see a similar response here in Sri Lanka as well," Oppo Sri Lanka Brand Manager Kevin Law said.

The F1 will be available on the Sri Lankan Market around 25 February.