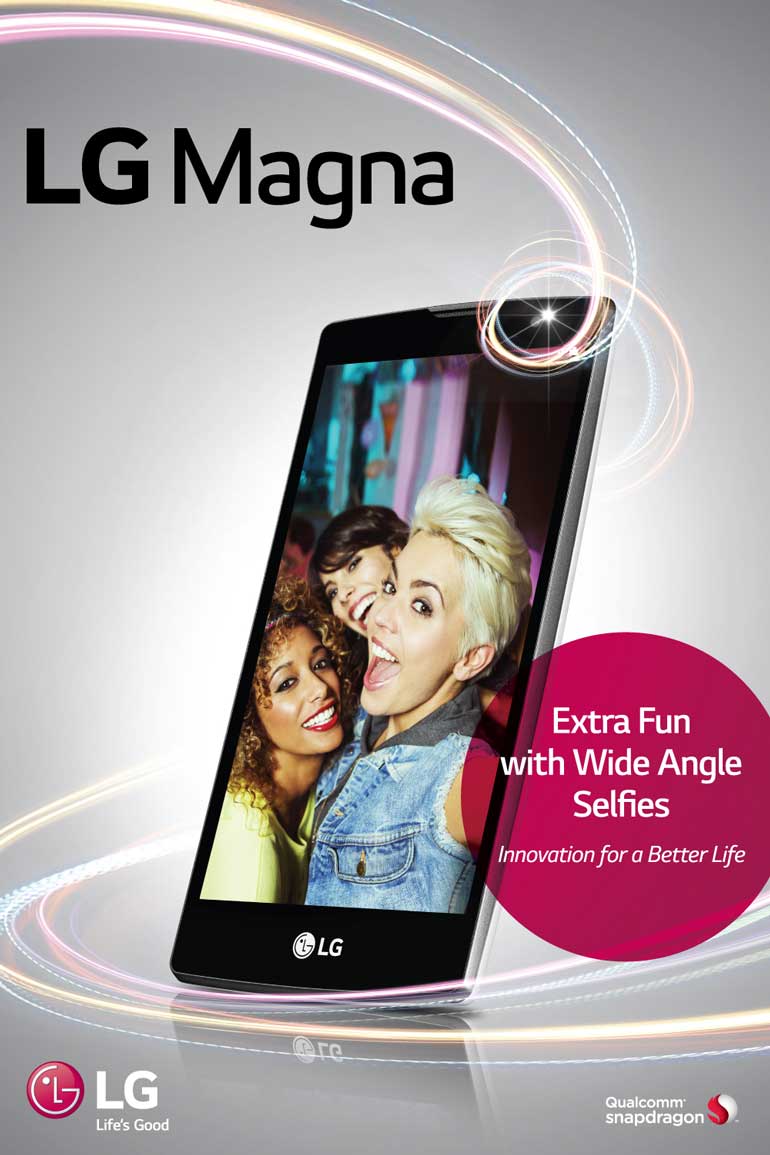 At this year's Mobile World Congress (MWC), LG Electronics (LG) unveiled its new Magna Smartphone, which is an exceptionally priced mid-range handset with design elements and features usually reserved for premium models.

The new LG Magna Smartphone is built on LG's design language to bring optimised performance and effortless user experience to a broader range of consumers. By combining the most essential hardware with LG's premium design elements and user experience, LG has created the perfect balance of style and usability. The LG Magna is designed to fit more comfortably in the palm of one's hand with its gently curved design while its display is distinguished by a subtle 3000 mm radius curve for a sleeker, more attractive profile.

The LG Magna is a standout handset and ticks nearly every box you want it to in the mid-range category. The device is available in 3G version, consistent with LG's strategy to expand its appeal in the mass-tier segment with different products. The LTE and 3G versions of LG Magna share nearly identical design cues with metal looking back covers distinguishing the LTE models while the 3G devices feature patterned plastic back covers.

The LG Magna, which means "ultimate" in Latin, features a 5-inch HD in-cell touch display, normally offered only in premium smartphones. It comes with the latest Android 5.0 Lollipop operating system and a Quad-Core chipset. With an eight-megapixel main camera and five-megapixel front shooter, the LG Magna was designed with high quality selfies in mind. A class leading 2,540 mAh removable battery keeps the Magna running all day even with heavy use.

With the LG Magna Smartphone, LG is carrying over popular UX features originally designed for its premium smartphones. Gesture Shot makes it easy to take great selfies with a simple hand gesture that starts a three-second countdown.

LG has extended the distance from which the camera can recognise gestures to 1.5 meters to accommodate popular selfie sticks. Glance View, which debuted on the G Flex2, lets users quickly access key information such as time, recent messages or missed calls with a simple downward swipe of the screen, even while the display is off.

"LG's new Magna Smartphone continues our legacy of offering amazing smartphones at reasonable prices," said Juno Cho, president and CEO of LG Electronics Mobile Communications Company.

"For millions of consumers around the world, the deciding factor on which smartphone to buy isn't how fast or how big it is but how balanced it is. With the LG Magna, more and more customers will be looking to LG for their next handsets."

The affordable new LG Magna Smartphone comes with a free flip cover, screen guard and a Smart Warranty that covers drop damage (if phone is damaged by user accidently), and liquid damage (if any liquid or such substance seeps into the phone accidently), so you can confidently use your phone without worrying about any accidental damage to it. The Smart Warranty comes absolutely free for one year with the purchase of any LG Smartphone from Abans or any Abans Key Partners islandwide.