WNS Global Services Sri Lanka Managing Director Dushan Soza in a discussion with Kerry Hallard
With the motive of bringing about the opportunity to partner with the IT/BPM industry in the UK, SLASSCOM together with the Export Development Board (EDB) successfully concluded a highly interactive and engaging session on 15 February at the Kingsbury Hotel, featuring Kelly Hallard, CEO of NOA and Director of European Outsourcing Association (EOA), the industry association and professional body for outsourcing that works with and support large European buyers and global providers of outsourcing services.

Kelly Hallard arrived on 15 February to the island and delivered an insightful presentation on trends of the future of outsourcing from a global context, followed by an industry visit to Orion City, Virtusa, WNS and on the 17th went to visit HSBC, Codegen, Calcey and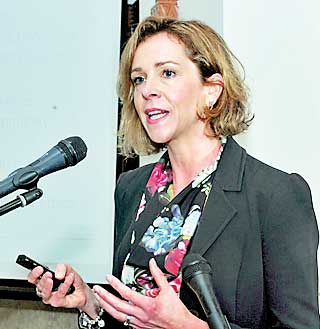 also saw the Sri Lankan built electric super car at Trace Expert City, VEGA.

Kelly stressed that data is the new gold and that it is crucial to know how to mine and refine it where customer centricity needs to be at the heart of everything whilst technology is the enabler. She also highlighted that the use of outsourcing globally will increase significantly over the next five years. However the areas for improvement for service providers are creating and delivering value, delivering innovation, value-based sourcing models, automation and transparency.

The areas for improvement for outsourcing clients are alignment of business objectives with vendors, focus on outcomes not outputs, collaboration, and a better understanding of client's processes. Kerry unveiled a new eco-system for service providers (including JVs, digital agencies, app developers, systems integrators and other partnerships) where the key components are shared risk, open standards, people centricity, design thinking, innovation, transformation and flexibility.

The event also demonstrated the traits going forward such as ROI obsessors, speed of new junkies, content creators and curators, provocative idea makers, whilst the skills required to maximise future opportunities are digital transformers, transformation architects, automation experts, customer centricity managers, design thinkers, operational strategists, enterprise technologists, and commercial negotiators.

This was a tremendous opportunity to showcase local talent and capabilities and vice versa. EOA is the leading European-based outsourcing association with more than 1,000 corporate members from the eight national industry associations: Austria, Belgium, France, Germany, Italy, Spain, The Netherlands and UK. The National Outsourcing Association (NOA) is the UK and lead Chapter of the EOA.

SLASSCOM is the national chamber for the IT/BPM industry in Sri Lanka and acts as the catalyst of growth for the Sri Lankan IT and BPM industry by facilitating trade and business, propagation of education and employment, encouragement of research and innovation, and by supporting the creation of a progressive national policy framework. It has an ambitious 2022 Vision to become a $ 5 billion industry, creating 200,000 direct jobs and launching 1,000 start-ups.