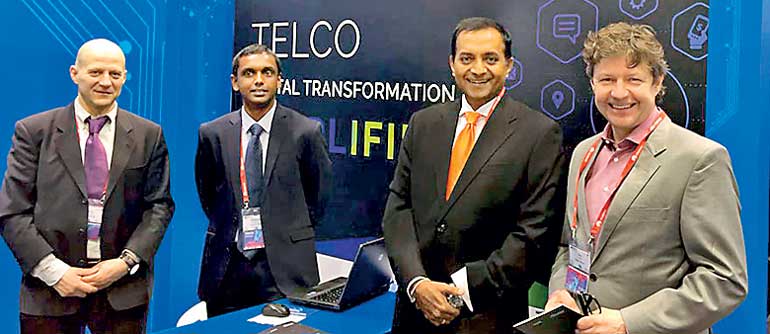 Dinesh Saparamadu and Sayanthan Balathasan of hSenid with Moota officials at MW-2016
At the Mobile World Congress (MWC) 2016 currently being held in Barcelona, Spain, Moota Telecom and hSenid Mobile in strategic partnership showcase how Telcos can transform their future in digital services, to gain more control over subscribers bringing in new revenues.

Moota Telecom pioneers in device configuration solutions ensuring Telcos get control over subscriber mobile devices, whereas hSenid Mobile enables Telcos to open up their network assets via APIs for collaborative service innovation, whilst continuing to control those assets.

The collaboration will open up a whole new avenue for third party content providers and service creators to create digital services effortlessly through self-care portals using hSenid Mobile Telco specialised API management platform (TAP) whilst Moota Telecom's Mobile Configuration Platform (MCP) will push those services directly to subscriber handsets influencing subscribers to consume more and more Telco services. With a minimum involvement Telcos can remarkably widen their potential in digital services sphere with a complete control over network as well as handsets.

hSenid Mobile Solutions CEO Dinesh Saparamadu said, "The rapid development of technologies has completely transformed the Telco industry. Every Telco has to embrace and be on par with these ever changing technologies to offer compelling services and ultimately satisfy their customers. All they need to do is be vigilant, understand the trends and respond to them fast."

Moota Telecom CEO Otto Kalvo said, "Digital Telcos are reshaping the way networks and their businesses work. This is an era when new initiatives add value to customers and is a critical factor in the future of Telcos."

Moota Telecom and hSenid Mobile will be available at MWC at Hall 6 Stand 6H20 to discuss more about their synergies till 25 February.

For more information visit: www.hsenidmobile/Moota-HMS.