Micromax Informatics has upped the ante for Android Smartphones with its recent introduction of five exciting new BOLT range models.

The new BOLT models Q335, Q324, S300, D303 and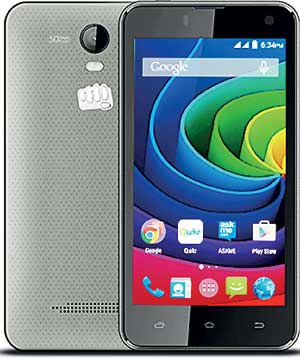 D200 were launched to offer locals an innovative range of entry-level Android smartphones.

"We understand local fast-moving consumer trends and Micromax smartphones are now extremely popular due to affordable pricing, high quality, and reliable after sales service," said Amit Mathur, International Business Head, Micromax.

The BOLT Q355 comes with a 4.5-inch display, runs on Android and is powered by a 1.2GHz quad-core processor along with 512MB RAM. It also sports a 5MP back camera and a 2MP front-facing camera and an expandable memory up to 32GB and is priced at Rs 9,990.

The BOLT Q324 is yet another entry-level Android smartphone with a 4-inch screen also powered by a 1.2GHz quad-core processor paired with 512MB of RAM. The BOLT Q324 comes with 4GB onboard memory, further expanded up to 32GB and a digital front camera and 2MP back camera. It is priced at Rs 8,490.

The BOLT D303 smartphone is powered by a 1.3GHz dual core processor and comes with a 4 inch display and running on Android KitKat. The phone holds a 3.2 MP rear camera and also a front camera and 32GB expandable memory. This entry level smartphone is priced at Rs. 7,490.

The Micromax BOLT S300 comes with a 1GHz processor, 512 MB RAM and with Dual SIM support. Sporting a 4-inch WVGA display, the BOLT S300 runs on Android KitKat and is powered by a 1200 mAh battery, dual cameras and 32GB expandable memory. The BOLT S300 is priced at Rs 6,990. The D200 BOLT device is powered by the Android KitKat a 1.3GHz processor, 2G Dual SIM featuring a 3.5 display inch and dual cameras. It is priced at Rs. 5,990.

Sanjeev Ariaratnam, Director Metropolitan noted: "There has been massive growth in Micromax smartphone sales in the past few years and we remain committed in bringing the best technology offered by Micromax at the lowest price points." "We continue to focus on bringing exceptional smartphones from Micromax's global portfolio as we firmly believe Sri Lanka has huge potential and are confident of fulfilling the needs of the smartphone generation," added Savio Mendonza, GM International Business for Micromax in Sri Lanka.

All Micromax phones are available through their sole distributer Metropolitan Telecom Service. For more information visit any Metropolitan M-Centers or any Micromax showroom located island wide.