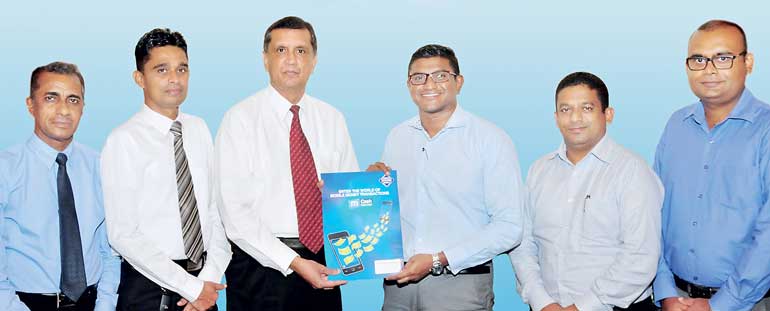 Central Finance Director Marketing and Operations Ravi Rambukwella exchanging partnership agreement with SLT Mobitel General Manager Product Marketing Isuru Dissanayaka (middle) while (from left): Central Finance Senior Manager Recoveries Annesly De Silva, Central Finance Head of IT M.A.M. Farook, SLT Mobitel Head of Mobile Money Kalhara Gamage and SLT Mobitel Product Executive Mobile Money Ashan Goonethilake look on
The national mobile service provider SLT Mobitel has partnered with Central Finance enabling Central Finance customers to simply pay their leasing payments from his/her own mCash account or by walking into any mCash touch point island-wide to make their leasing payments conveniently. This service is available for both Mobitel and non-Mobitel customers providing everyone the opportunity to experience the best benefits offered through mCash.

mCash is an all-in-one financial transaction service provider that allows the convenience of settling utility bills, insurance premiums and leasing payments of multiple partnering companies using a mobile phone.

Under the partnership, all Central Finance customers can make their respective rental payments anytime, anywhere from their Mobitel or Etisalat mobile phone by simply dialling #111#. An SMS is sent as a receipt confirming the transactions and payment will be sent by mCash in a seamless transaction between the customer, Central Finance and Mobitel. Non account holders of mCash can make payments via the 12,000 + authorised mCash retailer network island-wide including Mobitel branches.

Having experienced a rapid growth over the years with a growing clientele, SLT Mobitel has made a strong presence countrywide with mCash which enables its users to maintain a mobile money account to experience a whole new quick and convenient method of carrying out monetary transactions. Licensed under the Central Bank of Sri Lanka, mCash provides a full range of services that include depositing, withdrawing and transferring money, paying utility bills, insurance premiums and leasing payments, settling payments to government departments, making charitable donations and purchase of goods and services.

mCash has an extensive retailer network of 12,000 + touch points island-wide including Mobitel branches, SLT Teleshops and Singer Mega outlets, supermarkets, leading banks, 600+ Commercial Bank ATMs for cardless withdrawals and 200 + Pay & Go kiosks located in central areas for mCash services. To register for mCash simply dial #111# from your Mobitel or Etisalat phone to get started.