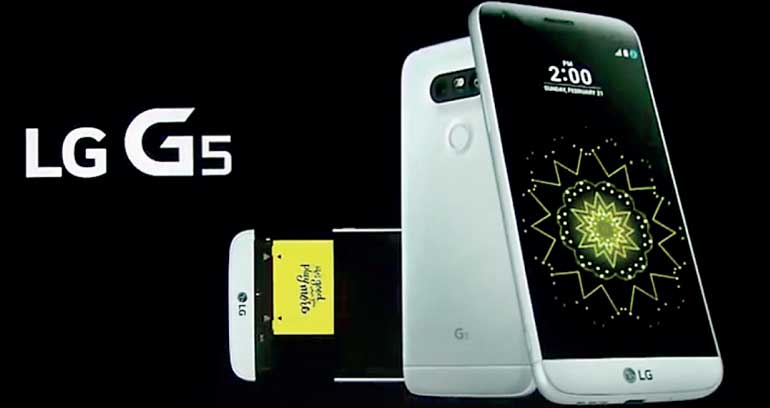 LG Electronics has unveiled its creative new flagship smartphone G5 which it will ship in March 2016.

It comes with 4GB of LPDDR4 RAM, 32GB of internal memory plus a microSD card slot which can take up to 2TB, USB Type-C and a 2,800mAh slide-out battery. It weighs 159g and will be available in silver, titan, gold and pink.

The LG G5 is equipped with a Snapdragon 820 processor which offers advanced features such as 64-bit performance, Adreno 530 graphics and Qualcomm Hexagon DSP as well as Qualcomm Spectra 14-bit dual image signal processors (ISPs) designed to deliver high resolution DSLR-quality images and additional power savings.

The Snapdragon 820 processor also has an integrated X12 LTE modem that supports Category 12 download speeds of up to 600 Mbps and LTE Category 13 uplink speeds of up to 150 Mbps.

Compared to the previous generation Snapdragon processor, Qualcomm Technologies' most advanced CPU architecture offers double the speed and power savings. Adreno 530 graphics demonstrate up to 40% faster graphics performance and up to 40% more power efficiency compared to the previous generation.

The Snapdragon 820 processor also supports 4K capture and playback at four times more than the resolution of 1080p, enabling users to watch and capture their daily moments in stunning detail and clarity. The processor is also optimised for VR, generating quality pixels and life-like colors to deliver the ultimate VR experience to G5 users.

The LG G5 offers Quick Charge 3.0 for fast charging. By employing an intelligent algorithm, Quick Charge 3.0 is 27% faster and 45% more efficient than the previous generation.

The LG G5 is also equipped with aptX HD, an enhanced codec that supports 24-bit sound over Bluetooth.

The 5.3-inch Quad HD IPS Quantum display on the LG G5 offers an always-on feature.

The concept of the always-on display was first introduced in the LG V10 as the Second Screen and now that feature has evolved on to the main display to show the time and date continuously even when the G5 is in sleep mode.

This means that you can always see the time at a glance, even during important meetings or when your hands are full.

To minimise power consumption, LG redesigned the display driver IC memory and power management function so that the display's backlight only illuminates one small part of the overall display. Thanks to this technology, the always-on display requires only 0.8% of the battery's full capacity per hour to operate.

With consumers turning on their smartphones up to 150 times a day mostly to just check the time, the G5's always-on display is expected to make a notable difference in the life of the battery over the course of the day.

Another advanced display feature in the LG G5 is Daylight Mode, which gives the G5 better outdoor visibility beyond that of current auto brightness technology. Daylight Mode detects surrounding light conditions and instantaneously increases or decreases the brightness of the display, up to 850 nits.

The LG G5 has two cameras on the rear: one with a standard 78-degree lens (16MP) and another with a 135-degree wide angle lens (8MP). The front camera is 8MP.

The 135-degree lens on the LG G5 offers a viewing angle that is approximately 1.7 times wider than those of existing smartphone cameras and 15 degrees wider than the human eye's field of view.

The wide angle lens makes it easier for users to capture more landscape, taller buildings or larger groups without having to position oneself further from the subject.

The LG G5 features a collection of photo effects including Pop-out Picture, Film Effect and Auto Shot. Pop-out Picture combines images taken by the standard and wide angle lens to create a picture-in-a-frame effect. Film Effect can apply nine different film emulators to an image while Auto Shot is an enhanced camera UX which automatically captures the perfect selfie shot when a face is recognised.

Because of the LG G5's modular design, the LG CAM Plus camera module can be attached through the slide-out battery slot to deliver a comfortable grip and convenient control of a standalone camera. The LG CAM Plus provides physical buttons for power, shutter, record, zoom, LED indicator and comfortable grip. It also offers intuitive auto focus and exposure lock, features usually found on standalone digital cameras. When attached to the LG G5, it provides an additional battery capacity of 1,200mAh to allow for longer shooting times.