Highlighting the strategic advantages and innovation in digitalised printing solutions, Lexmark, together with EWIS Peripherals conducted a highly appreciated Solutions Summit for customers and corporate clients recently.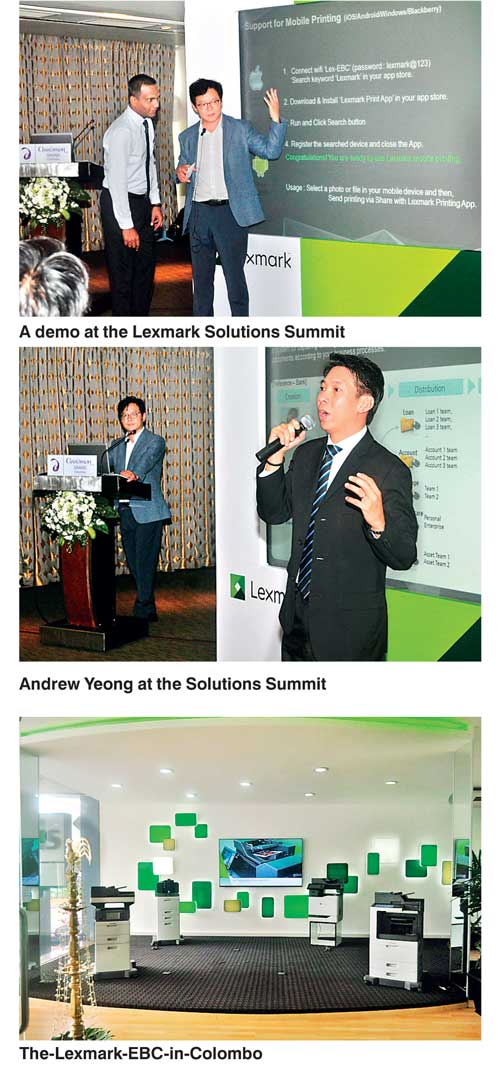 Lexmark, a globally acclaimed imaging solutions company, showcased a range of SMART devices that are geared to take on a digitally evolving business landscape. As the sole authorised distributor in Sri Lanka since 1991, and longest serving Strategic Partner for Lexmark, EWIS Peripherals is well geared to assist customers discover specific solutions to improve the print and imaging environments on premise.

Introducing the audience to an array of award-winning multifunction, next-gen products, Lexmark General Manager Asia Pacific Central Andrew Yeong said, "There is a 13% drop in the use of PCs with a significant increase in the use of smart devices, which means a new Bring Your Own Device (BYOD) generation of employees is entering the job market. So, in order to accommodate them, the corporate office environment will have to change."

He added, "This year, we have found that 29% of office staff want some form of BYOD printing solutions. By 2020, this will increase to almost 50% which means that businesses will have to be prepared for digitalisation in printing."

Yeong then introduced the audience to Lexmark's newly released software portfolio, including the AccuRead Automate, Solution Composer, Fleet Manager, and Google Cloud Print, which are designed and developed to compliment the Lexmark SMART Multifunction (MFP) series. The software portfolio covers a range of operational aspects in digitising paper from capturing data, archiving documents, retrieving documents, designing document work flows, support mobile printing through Google, printer fleet tracking, user tracking and secure printing using NFC / HID technologies which positions Lexmark to re-define its business proposition.

"The SMART MFP is a hub in document digitisation to manage an organisation document in put and out and simultaneously reduce cost while streamline other operational aspects," said Yeong.

On the heels of this Summit, Lexmark launched its state-of-the-art Executive Briefing Center (EBC) in Colombo. EBC is a global Lexmark Showroom icon displaying the latest printing solutions, and is the first of its kind to be launched in Sri Lanka. The EBC is hosted by EWIS Peripherals and located at 42, Galle Road Colombo 3. The Centre is equipped with the newest and most innovative and technologically advanced array of printers designed to provide customers and channel partners with an amazing interactive experience.

Yeong added, "This centre will be the showcase and setting in which to explore the latest trends and business opportunities of our products. We have introduced these smart devices to bring even more ease of use to our customers and serve as the gateway to access Lexmark's powerful platform of pre-loaded and customisable solutions that optimise business workflow."

EWIS Peripherals Ltd. Chief Operating Officer Harsha Samarajiwa said, "This EBC will be an access point and showcase of the Lexmark technology. We invite you to come and experience the functions, shortcuts and workflows that will give your business an added advantage through high-tech, intelligent printing solutions." EWIS counts a significant and strong 25-year partnership with Lexmark, making this the longest serving partnership for Lexmark in the Asia Pacific region. EWIS also markets the complete range of Lexmark products and innovative solutions in imaging and output management.

Lexmark EBCs are strategically located in major cities across the Asia Pacific region offering seamless solutions for the use of businesses in industries like banking and financials, telecommunications, retail, manufacturing and others.

For more information, visit www.Lexmark.com.