Consumers get hands-on experience of the devices through interactive activities
Samsung Electronics Co. Ltd. last week unveiled two of its latest and most anticipated smartphones, Galaxy S6 edge+ and Galaxy Note5, in Sri Lanka.

The new state-of-the-art mobile devices are designed to redefine the future of mobility and were unveiled at the Samsung Experience Day, which took place at Majestic City in Colombo. The event was attended by members of the public, the media and the senior management of Samsung in Sri Lanka. Customers were able to enjoy a unique virtual reality experience and a variety of games that enabled them to familiarise themselves with Samsung's entire range of products including the new Galaxy S6 edge+ and the Galaxy Note5.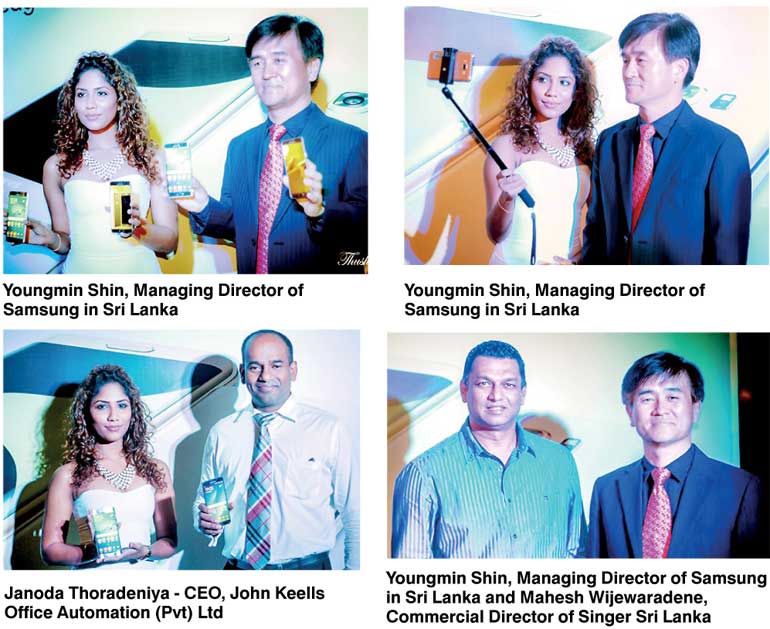 "We are delighted to have had the opportunity to engage and interact with our valued customers and showcase the entire range of Samsung products in Sri Lanka – including the new Galaxy S6 edge+ and Galaxy Note5. We are overwhelmed with the response for the Samsung Experience Day, which gave us a unique opportunity to interact and strengthen our relationship with our consumers and partners. The event featured various engaging activities and games which enabled users to obtain a better understanding of the versatility and capabilities of both these new Samsung mobile devices," stated Youngmin Shin, Managing Director, Samsung Electronics, Sri Lanka.

Samsung Experience Day featured a variety of games including a digital Temple Run and a virtual reality session which incorporated the Avengers. Other games included the Subway Surfer, the Mortal Blitz Game, Real Racing and a Stamp Tour.

The Galaxy S6 edge+ represents Samsung's commitment to the big screen smartphone market, which Samsung boldly pioneered in 2011 with the original Galaxy Note. The new Galaxy S6 edge+ blends a unique form factor with leading features that are currently available in the industry, including the best screen technology, the most advanced camera for high quality photos and videos, and the latest fast wireless and wired charging, as well as an incredibly powerful processor. The increased 4GB RAM complements the powerful Exynos octa-core processor, enabling users to enjoy a seamless multi-tasking experience.

Also unveiled at the Samsung Experience Day, the new Galaxy Note5 has taken multi-tasking on smartphones to new heights with the revolutionary S-Pen. With an all-new design, the Galaxy Note5 provides an unmatched set of productivity tools and the signature S-Pen helps users to get more done efficiently. It is a perfect blend of form and function with impressive features. The Galaxy Note5 is a stunning upgrade to Samsung's flagship Galaxy Note line-up – more powerful and more personal than ever. The device flaunts an all-new design, combining precision cut metal and smooth glass for a more refined look. The dynamic reflective back surface is accentuated by the brilliant colours to give a jewel like look to the device.