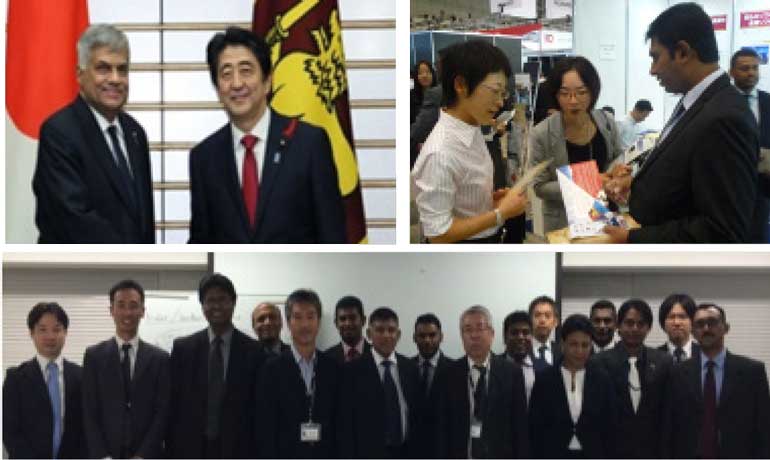 The Prime Minister of the Democratic Socialist Republic of Sri Lanka Ranil Wickremesinghe paid an official visit to Japan from 4 to 7 October, on the invitation extended by the Prime Minister of Japan Shinzo Abe.

Both leaders welcomed the Sri Lanka Business Seminar organised by JETRO on 6 October and the business match-making for the IT industry initiated by JETRO in 2014 through the joint Declaration on Comprehensive Partnership between Japan and Sri Lanka after the summit meeting.

Japan External Trade Organisation (JETRO) in collaboration with Sri Lanka Export Development Board organised Sri Lanka's participation at CEATEC Exhibition in Makuhari Messe in Chiba Prefecture (east of Tokyo) from 7 to 10 October with six Sri Lankan IT companies.

In addition JETRO has organised an IT Seminar on 6 October at JETRO Headquarters followed by the Investment Seminar.

Kazuhiko Obama, Resident Representative of JETRO Colombo convened the seminar by introducing the Sri Lanka IT delegation to the respective audience.

Obama, made a presentation on 'Trend of Japanese companies operating in Sri Lanka' which was followed by presentations from Taichi Matsumoto, Director-Metatechno Lanka Inc. and 'Business Opportunities in Sri Lankan IT Industry' by Jeevan Gnanam, Marketing Director of SLASSCOM.

After that networking session was opened for those who are interested in meeting Sri Lanka IT delegation and many vigorous talks were taken place among them.

Further, the Sri Lanka IT delegation had discussions with Japan Users Association of Information Systems (JUAS) and Japan Information Technology Services Industry Association (JISA) in Tokyo on 5 October which are the leading Associations for IT Industry.

The CEATEC JAPAN Exhibition was held for four days at Makuhari Messe and JETRO organised Sri Lanka Pavilion in an attractive manner by displaying the company posters in the booth. The Sri Lanka IT companies were able to negotiate with Japanese buyers and some companies have already established their businesses with the respective buyers met at CEATEC.

The delegation was met with 215 Japanese businessmen and made contracts with 30 business clients.