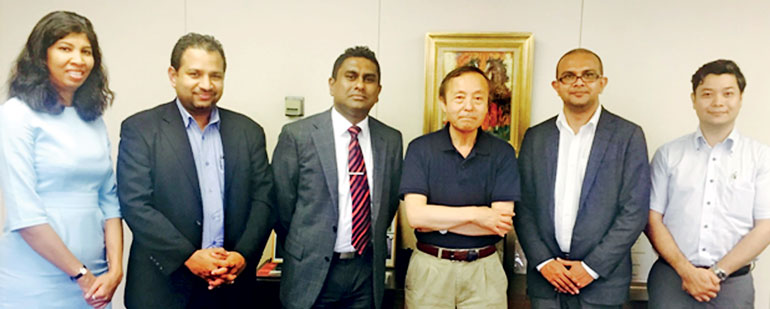 From left: Adam Inventions Manager Business Development Kushani Narangoda, Adam Inventions President Kaushal Wawlagala, Epic Technology Group Director and CEO Viraj Mudalige, IUJ President Dr. KimioKase, Epic Technologies Japan Business Development Consultant Asela Jayarathne and IUJ Assistant Professor Dr. Zaw Zaw Aung
Premier and award-winning regional technology leader Epic Technology Group, synonymous with innovative and superior 'FinTech' solutions, takes the lead in technology development by opening a Cyber Security Management Lab in Japan, a first by a Sri Lankan 'FinTech' company outside Sri Lanka.

Speaking on this landmark achievement Epic Technology Group Director and CEO Viraj Mudalige who was in Japan recently stated: "Cyber security today has become a hot topic of discussion and very soon it will be a national issue if not addressed properly, with Japan getting ready for the 2020 Olympics the threat of cyber security looms and needs to be addressed fast. Epic Technology Group with our extensive experience and diverse proprietary product portfolio in Information Systems Security, Secure Electronic Payments, Identity and Access Management and Secure Enterprise Communication domains, is delighted to join hands with IUJ to build awareness and prepare enterprise management to face this issue successfully."

"The main objective of this Cyber Security Management Lab in Japan would be to conduct joint research and conduct management training programs on cyber security, information systems security, secure payments and cyber threat mitigation. Confirmation has already been received from top corporates to participate in our joint programs, so that they are well aware of the threats and can take adequate measures to protect themselves and their business. Programs will be done in conjunction with the Global IT Park in Niigata Prefecture where Epic Technology already operates from," added Mudalige.

The International University of Japan was founded in 1982, as Japan's first graduate-school-only university, with leaders who believe a unique vision representing business, government and world organisations. International University of Japan equips students with interdisciplinary skills covering politics, economic and management as well as historical and cultural perspectives to take on current global issues from their chosen professions. Furthermore the International University of Japan offers an English only curriculum to students from 40 countries, taught by a highly qualified faculty.

Today Epic Technology Group owns an ultra-modern office infrastructure equipped with world-class software development, research and recreation facilities providing technocrats an ideal environment to work and utilise their skills passionately and creatively. Epic heavily invests in continuous knowledge assimilation and competence building, which they believe to be the pillars of roaring success over the past 19 years. At Epic, employees are nurtured thoroughly on domain expertise and are provided with ample opportunities to develop core and distinct competencies in preferred domains. Its talented workforce constantly contributes towards bringing a clear differentiation in customer satisfaction and product supremacy.

"Epicians" are driven by a unique out-of-the box approach to developing advanced yet affordable disruptive technology solutions across all their operational verticals. Epic's innovative technology solutions are designed and created by a talent pool of over 200 in-house engineers and experts. Epic also has its very own dedicated Research and Innovation Centre with dedicated researchers who continue to push the limits of innovative world-class technology.

Epic is an award winning technology leader of international repute that 'bridges humans and technology' through innovative solutions. Its state-of-the-art software development centre in Sri Lanka is manned by a dedicated R&D team, and the global business development and service units operating in Malaysia, Singapore and Japan. EPIC manages all aspects of the product development cycle including R&D, designing, prototyping, development, testing, maintenance, and support, while adopting its products to multiple platforms, devices, and databases. All products and solutions created by Epic meet international and industry standards as Epic is certified for ISO 9001-2008, ISO 27001-2013 and CMMi Level 3.