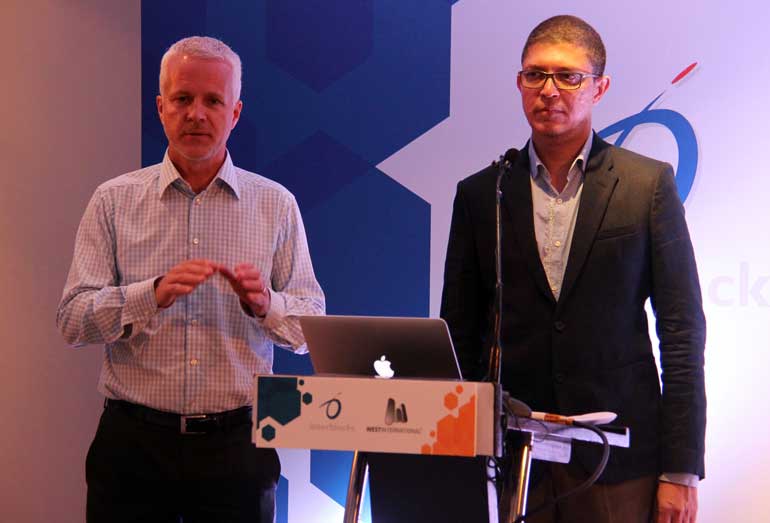 West International CEO Sten Karlsson (left) and Interblocks CEO Dinesh Rodrigo

– Pic by Bhanuka Kirinde
Sri Lankan retailers and merchants are set to benefit from a series of electronic payment solutions that will include state-of-the-art contactless card payment terminals, a Swedish electronic payment solutions company said on Wednesday.

Together with West International, one of Sweden's largest suppliers of transaction and payment solutions, Interblocks Ltd. of Sri Lanka will introduce card payment terminals to merchants around the country. The two companies entered a strategic partnership this week, with the objective of making electronic transactions more accessible to both merchants and consumers in rural and urban areas alike.

Speaking at a special event announcing the partnership, West International CEO Sten Karlsson said his company would provide industry certified infrastructure for payment methods in the form of reliable card payment terminal solutions that meet the highest security requirements.

"It will be a one-for-all card payment terminal. One terminal for all major cards such as Visa, MasterCard, etc., for all applications, regardless of the connection, whether it be Ethernet, dial-up or wireless. It will be integrated with the cash register, or could even be used standalone and will simplify the task tremendously for the merchant, reducing the investment and operating costs; thus making card payment available on a much greater scale than it is today," he said.

The company's entire product range is PCI certified, explained Karlsson, adding that West International would handle line encryption – an essential requirement of local banks – using software, thus avoiding extra hardware costs for the merchants.

"It uses XML based API, is very quick to implement and does not require any application on the cash register side. It's all web-based," he explained.

The partnership between West and Interlock will also result in new innovations not yet seen in Sri Lanka, said Karlsson. Contactless transaction, already deployed in Europe, will provide a number of benefits to both the merchant and the consumer. While still very much reliant on plastic, it's said to be a more secure and convenient method of payment than regular swiping.

"It's still a means of payments with a card, but a different way of reading the data out of the card. It's very fast, user-friendly and secure in that the consumer will never let go of the card. It has no interaction with the terminal, and most importantly for the merchant, avoiding the physical reading of the card improves the lifetime of the equipment," stated Karlsson.

The chip reader in most card terminals is the most troublesome function in the equipment, he further said.

"With contactless card payment, we are ready for a new world of mobile payments," he added.

All mobile payments will be implemented according to Master Card and VISA standards, he said.


Mobile payment plans

Responding to a question by the Daily FT on incorporating existing mobile payment plans in Sri Lanka such as eZ Cash by Dialog Axiata PLC, Karlsson said it was a possibility.

"Mobile money is a good example of an account-based payment method. Where you use the payment terminal and the payment terminal in turn communicates with eZ Cash. I enter my account information, phone number or whatever identification number in the physical store, in the terminal, and the terminal communicates with eZ Cash's backend servers in order to make that transaction," he said.

Contactless payment solutions will be the main drive in the years to come, said Karlsson.

"There will be a demand for 50 million devices over the next four to five years. And here in Asia, the rollout of new infrastructure will demand contactless," he said.

The card payment terminals to be introduced in Sri Lanka will function as more than a mere payment device. Merchants can offer over-the-counter withdrawal services in a 'cash to go' service, without the need for ATM equipment, said Karlsson.

This, among other value added services such as dynamic currency conversions, ticketing and top-up payments, invoice payments, etc., will introduce new revenue streams to Sri Lankan retailers and merchants, he said.

Meanwhile, commenting on the strategic partnership, Interblocks Ltd. CEO Dinesh Rodrigo said the similar values of the two companies would give them an edge over the competition.

"The synergies between Interblocks and West go beyond the complementary nature of our products. There is a strong synergy between the two companies in terms of our commitment to building long-term partnerships with our customers, and focus on creating future proof solutions, both companies are large enough to be at the cutting edge of technology and small enough to retain our customer-oriented approach. I believe this similarity in values will really set us apart in the market and is a strong foundation for a successful partnership," he said.

Karlsson, too, expressed similar sentiments, adding that he hoped the move would make electronic payment more accessible to the masses.

"This is a new chapter in the evolution of West International. I am very proud to initiate this strategic partnership with one of the leading payment processors in Asia and the Middle East. I have great expectations about how Interblocks and West together will innovate the payment market in the region and make electronic payments available to everyone," he said.