By Hiyal Biyagamage

Intel showcased its leadership directed towards 2-in-1 device category last week at a media gathering in Colombo, confirming more investments are planned for the one of the fastest growing mobile computing categories in the world. Media personnel were also given a chance to experience a range of Intel processor-based 2-in-1s in the local market from key partners of Intel Sri Lanka.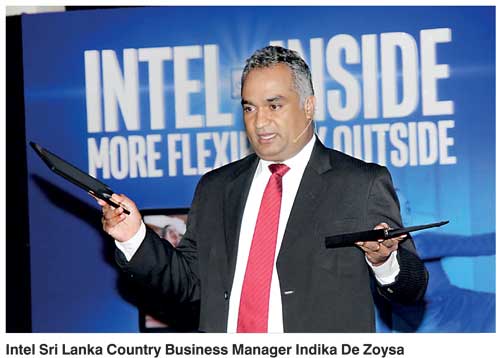 Speaking at the event, Intel Sri Lanka Country Business Manager Indika De Zoysa said: "Intel's commitment towards 2-in-1s speaks of a multi-year journey. It was an effort to reinvent the notebook. If you recall, 2nd Gen Intel Core processor helped the entire notebook's outer packaging to be thin and compatible. That was in 2011. In 2012, our 3rd Gen processors added touch and multi OS (operation system) support and 2014 saw the reinvention of notebooks; the arrival of convertible and detachable 2-in-1s. Our 6th Gen Core processors added a whole range of flair, innovativeness into this category. Technologies like Thunderbolt, Real Sense and Iris Graphics have changed the game for 2-in-1s over the last years."

A 2-in-1 device is a category of device that combines a full laptop and tablet capabilities into a single form factor. It eliminates the need to carry, or even purchase, two separate devices. 2-in-1 personal computers powered by Intel processors offer the benefits of both a powerful touchscreen laptop and a fast, detachable tablet. They also drive convertible 2-in-1 devices that let users quickly convert their laptop into a portable tablet while keeping the keyboard attached.

Back in April this year, Intel initiated a strategic restructuring process in order to speed things up towards becoming a company that powers the cloud and billions of smart, connected computing devices. In order to drive a more profitable mobile and personal computer business, Intel plans to increase their investments in new products and technologies. Alongside major technologies including data center, IoT, memory and connectivity businesses, which have brought a gigantic revenue growth of US$ 2.02 billion in 2015; 2-in-1 category has been named as a strategic element that would accelerate 'new' intel's profit margins over the next few years.

"We have identified 2-in-1s as a significant business category and I highly believe that this category would bring more revenue throughout this restructuring process. It's a market that has shown a significant growth since 2013 and it's a diversified market. In 2013, we had only 25 2-in-1 designs in the market. By the end of 2015, we saw more than 90 designs entering the market which also helped the average retail price of a device to be reduced from US$ 900 to a mere US$ 550, even lower than US$ 550. These changes tell you why Intel trust in his segment," Indika told Daily FT when asked about Intel's forecasts about the segment.

Intel 2-in-1s come in two categories; convertible and detachable. Convertible 2-in-1s with larger screen sizes are perfect for users who need performance with mobility (mobile professionals, photo and video-editing enthusiasts). Users can flip, swivel or slide the screen into tablet mode. Detachable 2-in-1s with smaller screens are well-suited for users such as frequent travelers and students. The keyboard can be detached anytime which brings maximum mobility for users. Both convertible and detachable devices are powered by 6th Gen Intel Core processors.

Intel processor-based 2-in-1s empower businesses as well as education in a major way. 6th generation Intel Core M processors enable design innovation and wireless freedom. With an enhanced battery life, users can enjoy up to 10 hours on a single charge in a thin and light 2 in 1 form factor for work and play on the go. These processors also bring an immersive graphic in full HD at 40fps, which brings a smooth gaming experience with stunning visuals.

Intel Sri Lanka also plays a vital role in the local OEM (Original Equipment Manufacturer) market, providing leadership for local device manufacturers to build compatible and affordable 2-in-1 devices for the local market. Sri Lanka's leading OEM entity EWIS introduced OCTA 9.7" (OCTA T970G) to the market last February. The 2-in-1 device is powered by a 6th Gen Intel Core M processor and supports a dual operating system – Windows 10 and Android KitKat. Prior to this, EWIS introduced eTAB Hybrid (T900G) in 2013 which received positive comments from local consumers.

2016 March saw E-tel introducing E-tel KeyTab with a powerful 1.83 GHz, quad core Intel Atom processor to the local market. With a price tag of Rs. 34900, KeyTab comes with a 10.1-inch screen, 2GB DDR3 RAM, Intel HD graphics and other key features such as SIM HSDPA, Wi-Fi connectivity and a 6000mAh battery provides up to 10 hours of work time on a single charge.

In April, Sri Lanka's largest mobile network Dialog Axiata entered the 2-in-1 game with Dialog WinPad, which went on to break the price barrier at Rs. 25,990. Powered by an Intel Bay Trail Quad Core processor, Dialog WinPad offered local consumers the chance to experience one of the best 2-in-devices currently serving the market. A dialog representative at the event told Daily FT that WinPad has become a hit in the local market and the company has already arranged for a bigger order to serve local 2-in-1 enthusiasts in the next quarter.

"Our reports show that more 2-in-1 buyers indicate they purchased it for 'want', rather than 'need' compared to laptop buyers. Most importantly, 40% of 2-in-1 buyers had considered a tablet as number on alternative. I guess the trend is same in Sri Lanka. We have a range of 2-in-1s the local market. When you look at the present hype for these devices, it is a positive move made by Sri Lankan OEM manufacturers to enter this market. It has been a great experience so far for Intel to work with companies like EWIS, Dialog and E-tel. This is a great opportunity to create a conversation around these devices," said Indika with Daily FT.

When asked his comments about how the new Intel 7th generation going to energize the 2-in-1 category, which Intel highly depends on bringing revenue to the company, Indika said, "I guess 7th Gen processors would be a definitive cause to strike a true balance between work and play as far as 2-in-1s are concerned. Intel's 6th generation processors (code-named Skylake) brought many novel features to this segment and without a doubt, Gen 7 processors would do the same."

If you followed Intel's Computex 2016 keynote, the company announced that 7th Gen Core series processors will only start shipping later this year and it will come with a new low-power CPU (Central Processing Unit) platform called 'Apollo Lake'.

Even though the keynote didn't have much information about 7th Gen's performance capabilities and features; the new chipset code-named 'Kaby Lake' will support many features such as Intel Real Sense, Thunderbolt version 3 and many others. The processor will have the same 14nm architecture as Broadwell and Skylake processors. Asus has announced that their Transformer, a 2-in-1, will carry a 7th Gen Intel processor. What about a 10nm chip? News coming from international sources say that users would only see a 10nm chip until the 8th Gen 'Cannon Lake' series in 2017 or later.

Without a doubt, the superior performance and versatility of Intel processor-based 2 in 1 devices offer users the ideal balance between powerful performance and maximum mobility to suit any work or play demands coming from today's fast paced lifestyles. With high expectations to bring more profits, Intel forecasts a significant growth for 2-in-1 devices, second only to phablets. With latest International Data Corporation (IDC) statistics suggesting 2-in-1s have become the fastest growing mobile compute category; Intel aims to sell-up from premium tablets (9.5" and larger) as well as accelerate PC refresh.