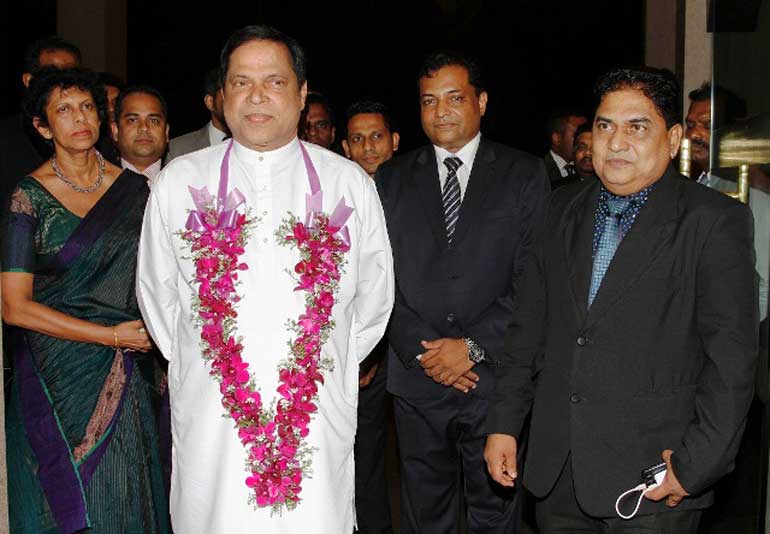 Vocational Training and Skills Development Minister Piyasena Gamage being welcomed at the official launch of INFOTEL 2015 in Colombo. From left: ICTA Chairperson Chithragani Mubarak, Minister Piyasena Gamage, FITIS Chairman Chinthaka Wijewickrama and Infrastructure Management Committee Head Sudath Amarasinghe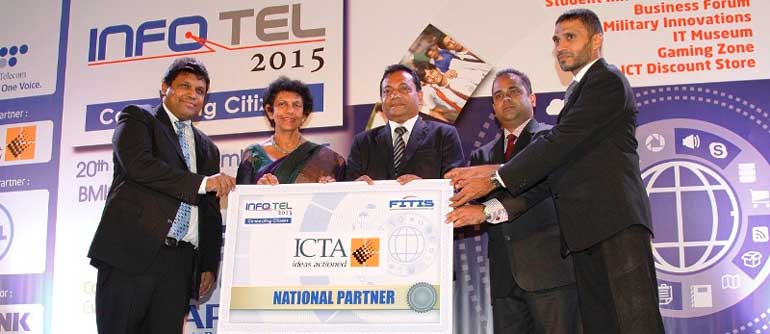 Information and Communication Technology Agency of Sri Lanka (ICTA) making a token presentation as the National Partner of INFOTEL – 2015 at the official launch in Colombo recently. From left: ICTA Chairperson Chithragani Mubarak, ICTA CEO Muhunthan Canagey, FITIS Chairman Chinthaka Wijewickrama, Infotel 2015 Organising Committee Chairman Derrick Ferdinandus and Sponsor Management Committee Head Naleem Farook
The ceremonial official launch of the INFOTEL 2015 ICT Exhibition, organised by the Federation of Information and Technology Industry Sri Lanka (FITIS), was held at the Galadari Hotel in Colombo recently. INFOTEL 2015, the biggest Information and Communication Technology Exhibition in Sri Lanka as well as in South Asia, is scheduled to be held from 20 to 22 November at the Bandaranaike Memorial International Conference Hall (BMICH) in Colombo. Coinciding with the launch of INFOTEL 2015, considered the biggest show in the ICT sector, will be the unveiling of the APICTA 2015 Awards in Colombo from 18 to 22 November. As the biggest IT-related awards ceremony in Asia, Sri Lanka will host the APICTA 2015 Awards and its related annual events. This will be a great opportunity for Sri Lanka to position the country's talents, products and infrastructure to international delegates from the Asia Pacific. Organised by FITIS for the 14th successive time, the long awaited INFOTEL 2015 Exhibition will held this year under the theme 'Connecting Citizens'. The key objective of this year's exhibition is to mobilise the resources available for the creation of a 'Knowledge Hub' and position Sri Lankan ICT products to showcase the country's technological advancements and innovations.

The Federation of Information and Technology Industry Sri Lanka (FITIS) is the unified umbrella body of the ICT sector in the country covering all major industry segments such as hardware, software, training and education, communication and professional segments. FITIS, which has been actively contributing towards changing the landscape of the Sri Lankan ICT industry during the past two decades, has many 'firsts' and 'bests' to its credit. The INFOTEL Exhibition is its flagship event. The INFOTEL Information and Technology Exhibition was originally initiated in 1992 and since then, the event was held on a grand scale in 1994, 1997, 2002, 2002, 2004, 2006, 2008, 2010, 2011, 2013 and 2014 under ICT-related topical themes.

The chief guest at the official launch of INFOTEL-2015 was Minister of Vocational Training and Skills Development Piyasena Gamage. Information and Communication Technology Agency of Sri Lanka (ICTA) Chairperson Chithragani Mubarak read out the message sent by President Maithripala Sirisena to mark this special occasion.

This year's event has a line-up of sponsors from both the state sector and the business community. Sri Lanka Telecom PLC is the Strategic Partner and DELL Sri Lanka has joined hands as the Technology Partner. Information and Communication Technology Agency of Sri Lanka (ICTA) will be the National Partner. In addition, Wijeya Newspapers Ltd. will be the print media partner, while SALA Enterprises has teamed up as the Silver sponsor. Informatics Institute of Technology will be the Career guidance partner, ESOFT Metro Campus the education partner and Extreme SEO Company, the digital sales partner. The Ministry of Foreign Affairs, Ministry of Education and Ministry of Higher Education and Research have collectively endorsed the event. With five months more for this mega exhibition, the organisers expect many more sponsors to extend their support to the event in diverse forms.

Speaking at the INFOTEL 2015 official launch, Vocational Training and Skills Development Minister Piyasena Gamage said that he had participated in this exhibition on many earlier occasions and organising an ICT-related event of this magnitude is not only an enormous challenge, but also a daunting task. Congratulating the organisers, the Minister wished them the strength to face the challenges at hand and the very best in their endeavours to make this unique event scheduled for November 2015 a grand success.

FITIS initiates 23 productive projects annually, including the INFOTEL Exhibition, with the core objective of making a positive contribution towards the growth of the ICT industry in Sri Lanka, Chairman Chinthaka Wijewickrama said. "In addition to INFOTEL, we have two other key targets to achieve in the near future. The first relates to how IT could be used for the growth of the agricultural industry and the other concentrates on how this technology could be employed to improve the lives and vocations of senior citizens. We hope to initiate a project on these two vital aspects in the near future," he noted. Chinthaka Wijewickrama said that sponsors and partners of INFOTEL 2015 as well as companies which open stalls at the event and members of the public who view the exhibition will be afforded many valuable opportunities plus a spate of fringe benefits. "We anticipate a turnout of around 100,000 to view the exhibition."

"The APICTA 2015 Information Technology Awards, which will coincide with INFOTEL 2015 in Colombo, will witness the participation of a large contingent of foreign delegates from around 17 countries. This will be a great opportunity to showcase Sri Lanka's technological advancements and innovations to a global audience," the FITIS Chairman said.

For B2B Connections, there will be 200 stalls in special pavilions covering nine sectors (Software, hardware and digital devices, Telecommunications, Cloud computing, computer gaming, mobile computing, emerging technologies, ICT Education and Training). For B2B Transactions, there will be an INFOTEL Shopping Festival with best bargains for a year round supply and an Online Shopping Pavilion where one can click and pay for unbelievable deals.

For Future ICT Leaders, there will be a Career Guidance program awareness for 500 students and 800 ICT teachers in collaboration with the Ministry of Education and Vocational Training Authority of Sri Lanka. Student Innovations Pavilion a showcase for university, technical and school innovators, Young Computer Scientists Awards ceremony and IT Quiz awards. For young ICT enthusiasts, there will be 30 gaming booths in an exclusive area.

Exhibitors are expected to showcase products and solutions ranging from Computer Hardware, Business Software, SAS, Cloud Computing, Virtualisation, iDC, ICT Security, Hosted PBX, IP Networking, Telepresence, Collaboration Technologies, Systems Integration, ITES (IT enabled services), Business Process Outsourcing (BPO), Office Automation to Telecommunication Equipment, Mobile Broadband, NGN (Next Generation Networks), Ubiquity, 3G, 4G, Wimax, LTE, IPTV, IP Convergence, IPv6 Technology, Smartphone Applications, Navigations and LBS (Location Based Services), ICT Training, Electronic Media, Computer Gaming, Medical Electronics, e-Citizen Services.

For more information on INFOTEL 2015, log on to website www.fitis.lk or email manager@fitis.lk.