Initiating the conversation on the real cost of data loss for companies, Microsoft Gold Cloud Productivity Partner and Hirdaramani company, H One brings to light critical factors often overlooked by business heads.

The costly trade-offs involved in leaving data unprotected can spell trouble for your organisation – why risk it when you can be insured? – asks H One. The risk is an unnecessary one with cloud based solutions such as MS Azure readily accessible. Relied on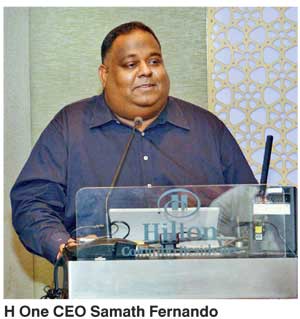 by over 66% of Fortune 500 companies, MS Azure offers enterprise grade SLAs on services, 24/7 tech support, and round-the-clock service health monitoring making it particularly adept at ensuring the continuity of your business' core data-based operations when disaster strikes.

Data loss can affect virtually every area of a business, from reputation to current and future sales and even continuity. Research conducted by Gartner in the US revealed that 43% of companies were immediately shut down by a major loss of computer records, and another 51% permanently closed their doors within two years-thus leaving a mere 6% survival rate. These alarming numbers reveal the fragility of business operations when it comes to unprotected data in the face of disaster, theft or a system crash; an area that risk mitigation processes can often overlook.

Companies that do take measures to protect data by using traditional tape often only back up business critical workloads for protection. In addition to being easily susceptible to deterioration and damage, the hidden cost of using tape comes in the form of heavy equipment and labor costs, intensified by businesses failing to conduct time-heavy restoration procedures to test backups.

Cloud-based data protection and storage is a high-end solution that many businesses have begun to opt for considering the high fall out cost of data loss. In the long run, ensuring the protection of your business' and customers' privacy simply pays better dividends.

At a recent gathering of the country's top Chief Information Officers, H ONE CEO Samath Fernando reaffirmed this, noting that cloud storage was already a secure and popular medium of storage with many corporates – especially in Sri Lanka, where companies value lean operational expense models. "Sri Lanka was an early adapter to the cloud due to relatively faster and cheaper internet than the rest of the region. Most of us already use it for readily accessible mail and via file storage sites like One Drive for Business. It makes complete sense, both operationally and financially, to let this secure storage medium protect your company's data and ensure business continuity."

MS Azure is one of the most effective ways to do this. The cloud provider leads the industry in customer advocacy and privacy protection with unique data residency guarantees. Azure was developed by Microsoft drawing on decades of experience building enterprise software and running some of the world's largest online services to create a robust set of security technologies and practices. This means that Azure infrastructure is resilient to attack, safeguards user access to the Azure environment and keeps customer data secure via encrypted communications, threat management and mitigation practices that include regular penetration testing.
H One customers and partners join them in bidding farewell to tape backup and usher in cloud based solutions


With Azure, businesses can take advantage of flexible costing with the pay-as-you-go/opex model that allows payment on a monthly basis instead of making a very large one-off investment on infrastructure. The model is ideal for any type of business, be it a small start-up or a large conglomerate, with the daily investment required to back-up 1TB of data amounting to around a mere Rs. 270.

Businesses can also meet compliance needs such as ISO that requires data stores external to company premises. Azure offers offsite storage, zero maintenance costs, and easily retrievable data. Data belongs to the company fully, and will not be mined for research or advertising purposes. In addition to setting up and maintaining the system, H ONE also provides training for businesses on harnessing the best of Azure for their needs.

Call H ONE's Cloud Team on +94 773 128 091 for more details on how your business can protect data and cut down on operational costs with Microsoft Azure. After all, it just makes sense to shield and strengthen the backbone of your business from within.