The New Executive Committee for FITIS Education and Training Chapter 2016/17
A series of new initiatives will be launched with the core objective of giving an impetus to the overall development of the Information and Communication Technology (ICT) training sector, says Upul Dassanayake, the newly-elected President of the Federation of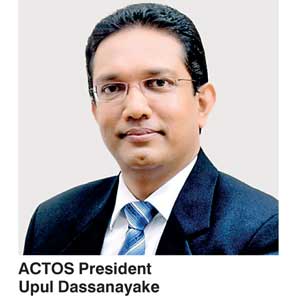 Information Technology (FITIS) Education and Training Chapter.

The Association of Computer Training Organisations (ACTOS) is the body representing the Education and Training Chapter of FITIS.

The FITIS Annual General Meeting (AGM) was held recently where Upul Dassanayake (ESOFT Metro Campus) was elected President of the Education and Training Chapter along with a new Executive Committee including S. Romesh (Asia Business College) as Vice President, Ziyam Abdeen (WinSYS Networks) as Secretary, Amila Bandara (SIBT) as Assistant Secretary, Vajira Karunarathne (Informatics Institute of Technology) as Treasurer and Kapila Giragama (Orient Academy) as Assistant Treasurer. Dr. Viraj Pinto (Matrix Institute of IT) is the Immediate Past President of this prestigious body.

FITIS Executive Committee members represent a wide cross section of the local IT education industry including AIMS College of Business & IT, Tech One Global, NetAssist International, Edulink International, Gateway Centre for Information Technology and Northshore College for Business and Technology.

Dassanayake brings a wealth of multidisciplinary expertise to FITIS with qualifications in diverse areas such as IT, management and accounting. He counts over 15 years of experience in the education sector and has held many top positions in reputed academic institutions in Sri Lanka. Having served on the FITIS Executive Committee in various roles for the past eight years, Dassanayake has been instrumental in initiating several high impact projects on behalf of the association.

Outlining the new initiatives earmarked to boost Sri Lanka's ICT training sector, Dassanayake stated: "Our flagship project is a new certification programme titled the International Competency in Information Technology (ICIT). Statistics show that many school leavers not only lack ICT expertise but also show deficiencies in language skills, mathematical knowledge and understanding of common industry/business practices. This is due to the current gaps existing between education providers and the industry. The ICIT programme has thus been designed in close liaison with industry experts to address these issues head on and train the next generation ICT workforce in a practical and methodical manner. It will enable school leavers or any employment seeker to obtain an industry recognised certification which proves their readiness for ICT related work. It will also be of benefit to anyone who wishes to learn about ICT which is fast becoming a basic requirement in everyday life.

"Furthermore, we are hoping to conduct a number of workshops across the island to promote ICT amongst school children with a special emphasis on reaching out to rural areas. Sri Lanka has an ambitious target of achieving $ 5 billion worth of IT exports by 2022 and creating over 250,000 viable employment opportunities in the IT industry. It is thus important to spread awareness and create momentum among the youth of the country in order to ensure that we can reach these goals. We also expect this endeavour to go a long way towards helping the country achieve 100% computer literacy and ensure that citizens are prepared to face the challenges of living in an increasingly digital world. A number of regional ICT youth clubs are also being planned where members can meet regularly to share knowledge and learn new skills.

"These are just some of the new initiatives we have planned and FITIS Education and Training Chapter also hopes to continue sharing technology and expertise with our counterparts in the region which will undoubtedly lead to new projects and mutually beneficial partnerships."

The Sri Lanka ICT Industry Association, the Federation of Information Technology Industry Sri Lanka (FITIS) constitutes the Sri Lanka Computer Vendors Association (SLCVA) – the Hardware Chapter, Sri Lanka Association for the Software Industry(SLASI) – the Software Chapter, Association of Computer Training Organisations (ACTOS) – the Training and Education Chapter, Lanka Internet Service Providers Association (LISPA)/(TPA) – the telecommunications Chapter and Information Systems Audit and Control Association (ISACA) – the Professional Chapter.

FITIS has been in operation for the past 20 years as the unified umbrella organisation of the ICT industry in Sri Lanka. FITIS has been actively engaged in setting the strategic direction and developing the ICT industry in Sri Lanka with many programmes which have been successfully implemented. There are 200 organisations representing the respective Chapters which are members of FITIS.