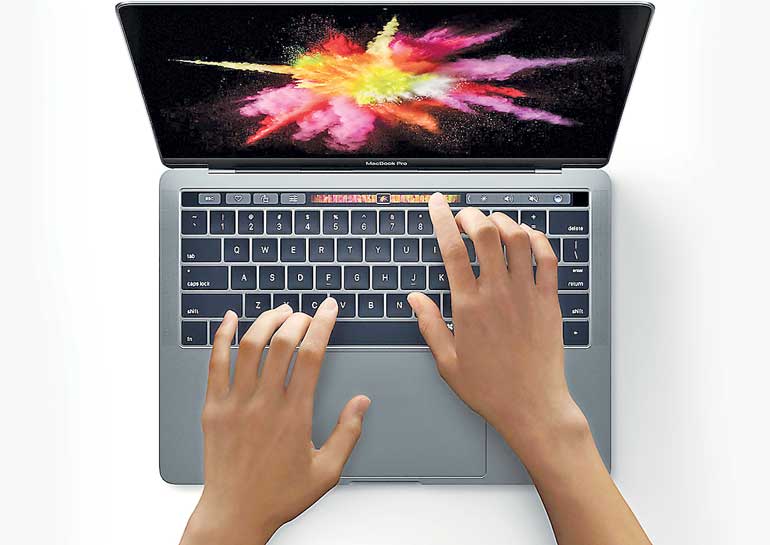 Abans PLC, the leading brand for consumer electronics, has recently unveiled the newest generation of the Apple MacBook Pro series for the first time ever in Sri Lanka.

Featuring an integrated touch bar, Apple's latest innovation, the groundbreaking MacBook Pro aims to redefine, revolutionise and enhance the computer user experience, while catering to the diverse variety of needs conveyed by consumers today.

The new MacBook Pro boasts a much thinner and lighter design, while being equipped with a unique fingerprint scanner. It also continues Apple's rollout of the USB-C, which was introduced with the MacBook last year.

The touch bar and touch ID features provide you with a progressive new way of using your MacBook Pro. Replacing the function keys that have long occupied the top of your keyboard, the dynamic touch bar gives you instant access to the tools you require for the relevant task on hand. This is due to the fact that the touch bar changes automatically based on the activities you conduct on your MacBook Pro. Hence, you can achieve several tasks through the touch bar including, expanding, contracting, and customising system controls; answering iPhone or FaceTime calls from the touch bar without moving the cursor; selecting a palette and tapping to choose a colour for text or objects; using text suggestions and emoji for the message and mail apps; and function key capabilities.

The right end of the strip also contains Apple's touch ID fingerprint scanner integrated into the power button, which is similar to the one fitted onto the iPhone and iPad, and can be used to unlock the laptop and confirm payments. This touch ID facility further enables you to conduct fast logins, purchase your apps from the App Store, secure online purchases with Apple Pay, and access system settings and locked notes all through the use of your fingerprint. The new Force Touch trackpad is also twice the size of the one present in the previous generation.

Commenting on the unique touch bar, Phil Schiller, the Senior Vice President of Worldwide Marketing for Apple said: "It's a retina display, multitouch, responding to gestures and taps. We call it touch bar. First it replaces the standard system functions, but it goes way beyond that. It adapts to whatever software you're using."

Craig Federighi, Senior Vice President of Software Engineering for Apple, showed that the touch bar could be used for navigation in browsers, photo manipulation, and text suggestions when typing. It can also suggest and insert emojis without leaving the keyboard.

The new MacBook Pro is also comprised of avant-garde graphics, high-performance processors, and advanced flash storage, which heighten the level of both performance and portability. This includes the impressive Radeon Pro, present in the 15-inch MacBook Pro, that delivers up to 130% faster graphics along with 2.5x more computing power per watt, providing you a vivid visual experience when editing videos, rendering 3D graphics, playing computer games, and so on.

With the MacBook Pro's incorporation of a solid-state drive, you can access up to 100% faster flash storage, which allows you to boot up faster, launch multiple apps, or even quickly import huge files. The 15-inch model possesses a vast memory storage of 2TB SSD, letting you take around even your biggest projects without the use of an external hard drive.

In addition, all MacBook Pros are outfitted with 6th Generation Intel Core Processors that deliver an incredible performance when performing complex tasks, namely encoding video files and rendering graphical designs. These processors also preserve energy when taking on lighter tasks, such as browsing online content and checking email.

Further, the MacBook Pro offers you up to 10 hours of battery life, letting you conduct your work on the notebook all day without interruption.

Moreover, the Apple MacBook Pro is the first MacBook to support P3 colour that possesses 25% more colours than RGB, allowing for a more vibrant colour palette and realistic visual images with vivid details. The retina display also includes stronger LED backlighting, a 67% higher contrast ratio, and 500 nits brightness along with a larger pixel aperture and variable refresh rate that make the MacBook Pro more energy-efficient.

Furthermore, the MacBook Pro features four Thunderbolt 3 ports with USB-C technology, which are a universal connection port that offers high bandwidth and maximum versatility. The Thunderbolt 3 allows you to transfer up to 40 GBps of data, simultaneously connect to two 5K displays, and charge and provide power from any port. You can also connect any of your devices to the MacBook Pro via Thunderbolt 3 such as, 4K and 5K displays, iPhones, iPads, Apple accessories, and external storage devices like USB drives.

The new MacBook Pro will immediately be available for purchase with the 13.3-inch model and 15.4-inch version being priced at Rs. 307, 999 and Rs. 387, 999 respectively. Apple has also unveiled a lower specification 13-inch model that comes without the touch bar and touch ID.

Visit your nearest Abans Apple iStore to attain the unique MacBook Pro with the touch bar at the following locations: Kollupitiya, Rajagiriya, Colombo Racecourse, Arcade Independence Square, Maharagama, KZone Ja-Ela, Katunayake, Kandy City Centre, Ratmalana and Galle.

Now, receive 20, 48, or 52 months' interest free and a monthly payment of Rs. 15,400 upwards for solely 20 months when purchasing the new MacBook Pro on your Sampath credit card.