From left: Etisalat Lanka Deputy CEO Riyaaz Rasheed, ZTE CEO Alex Wan, Etisalat Lanka CEO Sulaiman Alkaabi, Etisalat Lanka CTIO Perihane Elhamy and ZTE Sri Lanka CTO Sun Fei
Further enhancing its commitment to digitalise customer experiences, Etisalat Lanka partnered up with ZTE to provide an end-to-end convergent billing management solution.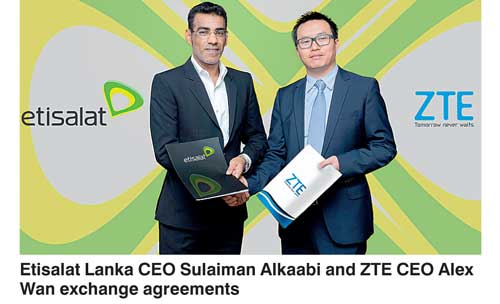 The recent transformation from the traditional infrastructure to the digital IT architecture has enabled Etisalat Lanka to meet the challenges of today's marketplace and fulfill the commitment of bringing the digital world to each and every one of its subscribers.

"By partnering with ZTE, we were able to take our customer experience to the next level. With the upgraded tech solutions that are at hand, Etisalat Lanka is now geared to get ahead in the competitive mobile telco market," said Etisalat Lanka Chief Executive Officer Sulaiman Alkaabi.

"Our convergent billing solution has enabled Etisalat Lanka to deploy flexible and personalised pricing strategies and offer competitive packages to facilitate its increasing customer demands, further allowing it to provide customised products to its personal and corporate consumer base," ZTE CEO Alex Wan stated.

As a mobile service provider which has a global footprint, Etisalat Lanka's foremost concern is its valued customers. The company has always catered to its consumers' needs by personalising and optimising mobile telecom services to match industry trends while being relevant.