ESET, a global pioneer in proactive solution, has launched a comprehensive data protection solution for mobile phones in Sri Lanka recently.

Combining the robust detection of ESET's scanning engine with advanced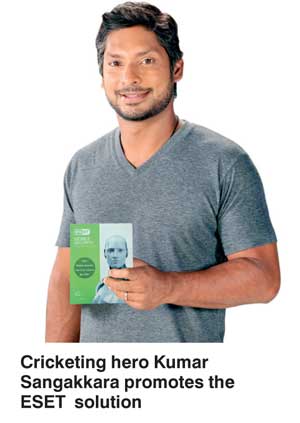 antispam and antitheft functionality, its multiple layers of security provide smartphone users with real-time protection on the go. Engineered specifically for mobile operating systems, ESET Mobile Security runs smoothly in the background while protecting all phone-stored and accessed data and communication without slowing it down.

"A growing number of mobile users in Sri Lanka are switching over to smartphones. While this gives them access to a world of information and services, they become exposed to the data security threats that come with it," said Dilruk Weerasinghe, Sales Manager – ESET retail at DCS International Ltd., the exclusive authorised distributor for ESET in Sri Lanka.

"Sri Lankan consumers have already witnessed the comprehensive data protection capabilities offered by ESET's solutions on their computers and have come to appreciate the same. With the launch of ESET Mobile Security we are delighted to extend this trusted protection to their mobile devices. Armed with a rich set of features, it is geared to protect users' data against threats from both the physical and the digital world."

The solution brings ESET's legendary Antivirus protection to the mobile at a time when smartphones are emerging as the most popular medium to access the internet. Armed with Anti-Phishing, it guards personal data from malicious websites. Anti-Theft pre-emptively locks the device when it senses suspicious usage, securing all sensitive information contained in it. Sharing multiple alerts, it allows users to track the location of the device on my.eset.com. SMS and Call Filter permits users to block individual callers or groups and only receive the calls and texts they want.

Speaking on the cutting edge Anti-Theft capabilities offered by ESET Mobile Security, Weerasinghe added, "In the event of detecting suspicious behaviour such as keying of incorrect security codes or the insertion of an unauthorised SIM card, the solution locks the device immediately. It captures photographs of the fraudulent user and sends it to ESET.com along with the phone's location, current IP address, SIM details and other data. The user can mark the device as missing and locate it on my.eset.com or even wipe the device's contents."

Since 1987, ESET has been developing award-winning security software that now helps over 100 million users to Enjoy Safer Technology. Its broad security product portfolio covers all popular platforms and provides businesses and consumers around the world with the perfect balance of performance and proactive protection.

Being exclusively distributed in Sri Lanka by DCS International Ltd. since 2010, ESET provides outstanding country-specific cyber security coverage as well as alerts on threats specific to the market to ensure that Sri Lankan businesses and consumers can stay safe from online threats.