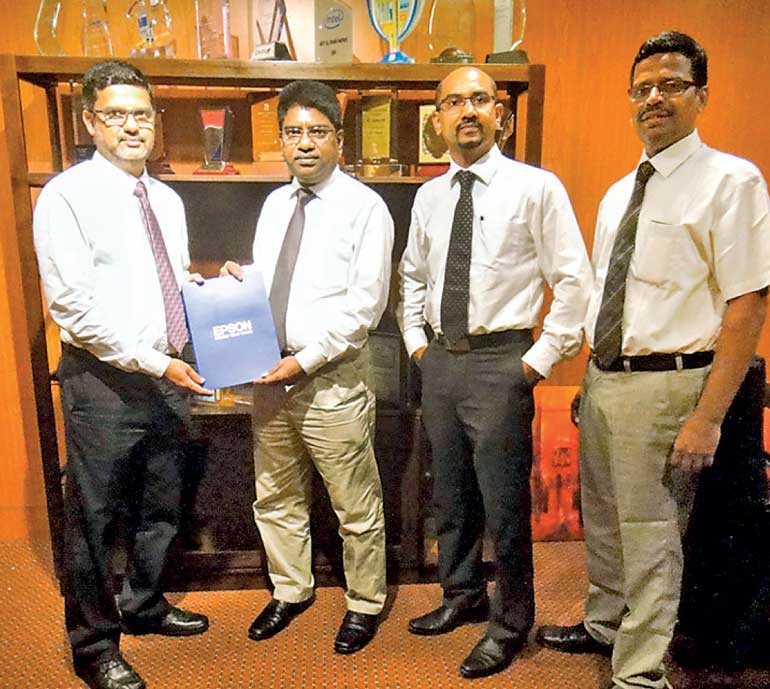 From left: Techzone CEO Rifky Cassim, EPSON India Deputy General Manager R. Shairam, Head of Country Operations Jerome Smith and Manager – Pre Sales Krishnamurthy
Epson, a global leader in digital imaging and printing solutions has appointed Techzone as its Accredited Partner in Sri Lanka. Techzone is a one-stop-shop for all IT related hardware and accessories with showrooms located in Galle, Matara, Kandy and Kurunegala. The flagship store is located at the Unity Plaza in Colombo. As part of the partnership, Techzone will stock and sell Epson's Inkjet printers and other consumables including the hugely popular L Series InkTank printers.

Epson's InkTank printers, offer a phenomenally low printing cost per page of 40 cents for B&W and 80 cents for colour. Since the introduction of the Epson L-series printers in 2013 the printers have been very successful, with small offices, small copy shops and home office customers embracing the cost effective technology. Through the L Series printers, Epson has empowered users to print freely without worrying about running costs, productivity and warranty issues as the ink tank system printers offer the lowest printing cost using genuine inks which produce high quality prints.

The affordable printing cost has already attracted many users to switch from using laser or from using expensive inkjet cartridges. The affordable, high-speed L130 InkTank printer has been a huge success in Sri Lanka. Going forward Epson is attempting to address the huge demand from the evolved home user, SMB and corporate segments for a similar cost effective printer.

The new L-Series includes the L565, which is the world's first original ink tank system with fax and Wi-Fi capabilities. This means that users of the L565 will be able to use the free Epson iPrint app to wirelessly print items like documents, web pages and photos using either Apple iOS or Google android mobile devices. The Epson iPrint app also allows users to scan items using the L565 printer and have the images saved to their mobile devices or stored online to their cloud storage services.

Epson Head of Country Operations Jerome Smith said, "Having worked with Techzone for many years, we felt that they are the obvious choice for this kind of partnership. We are confident that our printers and consumables will be marketed successfully and look forward to a longstanding relationship with Techzone." Epson has set up operations in Sri Lanka recently and has identified certain country-specific products that will be promoted and sold.

Techzone CEO Rifky Cassim said, "With an increasing number of companies looking for solutions to manage costs and increase productivity, Epson continues to broaden its business printing solutions portfolio to meet our customers' evolving needs. We are happy to be able to stock and sell these top quality products."

Apart from printers, Epson consumables will also be available at Techzone including the high quality instant-drying, fade-resistant, and long-lasting papers for printing photographs with a lab quality look and finish, the business range for work, home or school projects. Epson cartridges are also available.