By Dr. Dineshani Hettiarachchi

The 11th Annual Meeting of the New Champions, the world's foremost gathering on innovation, science and technology, was held in Dalian China this year and brought together leaders from business, healthcare, government, academics, policymakers and young scientist to herald a conversation on the theme 'Achieving Inclusive Growth in the Fourth Industrial Revolution'.

I was among the 73 global shapers invited to represent one of the three communities of the World Economic Forum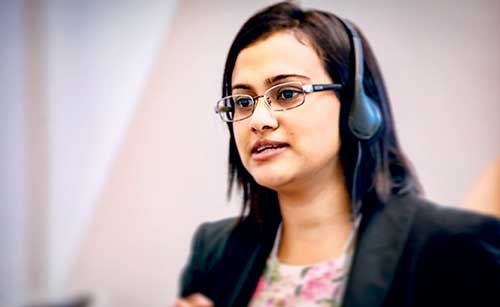 (Global Shapers, young global leaders and social entrepreneurs). Based on my background in medicine and science I was curious to know how mankind will evolve to face the challenges of the 4th industrial revolution. With the emphasis on accelerated human-centred development, it was discussed that the advances in technology would be used to augment human qualities rather than to replace it.

The Global Shapers Annual Survey highlighted mobility, consumption, relationships and governance as areas that would face the greatest changes in coming decades. 'Will these challenges make us more stressful as individuals? If so, will it have an impact on the health of our generation?' was undoubtedly one of my main concerns but my concerns were put to rest by discussions led by Prof. Klaus Schwab who envisioned the 5th industrial revolution to be more of a spiritual one rather than industrial.

Many of the latest research on studying our genome was also presented and it was noteworthy that latest research on identical twins emphasised the impact the environment had on our genetic architecture namely the expression of certain genes (epigenetics) and its adverse outcomes such as early onset of diseases such as diabetes and cancer.

As we face the challenges in the decades to come I think it's prudent to create an environment that is stress free. Hence the question remains, if we act now can we reverse some of these unwanted epigenetic changes? It might be wise to start meditating or to plan that family vacation in the hope we can adapt to the challenges of the future.