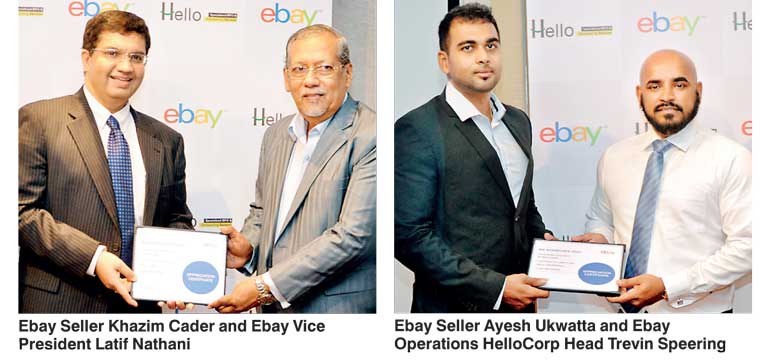 By Shiran Illanperuma

Fortune 500 listed e-commerce platform eBay has joined with HelloCorp to stimulate growth for Sri Lankan sellers in a move that eBay Vice President Latif Nathani said would, 'bring in more foreign exchange to the country'.

eBay has signed a master agreement with BOI listed HelloCorp to launch a retail exports business in Sri Lanka. The agreement will help Sri Lankan merchants to stimulate exporting their products to over 39 countries where eBay operates.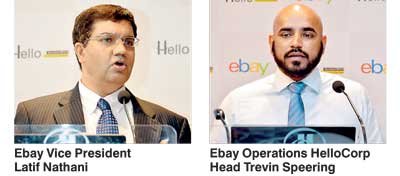 Commenting on this development, HelloCorp Head of eBay Operations Trevin Speering said, "We have an excellent team geared to manage existing seller accounts and provide training for ebay tools and applications. We will also extend arms into facilitating training discussions and seminars. At a later stage we are focusing on acquisition of news sellers on ebay."

Though the majority of Sri Lanka's eBay sellers are concentrated in Colombo and the greater Western Province Speering said that once the numbers of sellers out of Colombo increased, HelloCorp would 'operationally look at ways to cater to them when it comes to technology or even photography listings and content managers'.

HelloCorp's agreement with eBay is a major foray into the e-commerce sector. Registered in 2002, HelloCorp is one of the longest established Business Process Outsourcing (BPO) companies in Sri Lanka. Their services include services, telemarketing sales B2B and B2C and e-commerce sector.

eBay which derives 57% of its revenues from outside the North American market said that the number of Sri Lankan sellers on the platform had doubled over the last 15 months.

According to eBay statistics the top items exported by Sri Lankan sellers on the platform are loose diamonds and gemstones, with these goods being bought at a rate of one every 30 minutes. Other popular goods include healthcare and natural remedies, smartphones, watches and men's clothing.

While eBay's policy framework prevented it from revealing the total revenue figures of Sri Lankan sellers, Latif Nathani referred to the island as a 'vibrant community' and a 'land of entrepreneurs'.

"Our vision is to become a trusted and meaningful business partner and channel for merchants of all sizes to explore and thrive in overseas markets," said Nathani.

Nathani also highlighted the 'friction' Sri Lankan sellers face due to local restrictions on the payment platform PayPal. Currently PayPal can only be used to send payments but not receive them which severely limit local sellers.

"The entrepreneurs of the world are adept at finding solutions. We have seen that as businesses grow and expand, governments eventually help reduce the friction in the process; I think we will see the same thing happen with sellers in Sri Lanka," said Nathani.

There are around 3,000 Sri Lankan sellers on the eBay platform and 8,000 to 9,000 listings daily. The Top 5 countries which import Sri Lankan products through eBay are USA, UK, Canada and Australia.

Pix by Bhanuka Kirinde