The pioneer in Oracle applications, DMS Software Technologies recently secured three out of the six Partner Awards for H1/FY 2016 at an exclusive Partner Appreciation Event hosted by Oracle's Value Added Distributor, EZY. The award ceremony took place at the Cinnamon Grand Colombo and comprised three categories, namely; Oracle Cloud Partner Award, Human Capital Management (HCM) and Enterprise Resource Planning (ERP).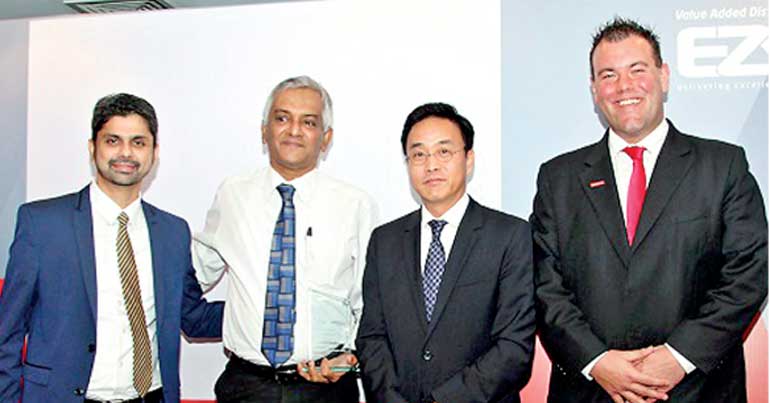 DMS Software Technologies Managing Director Lal Chandranath (second from left) with one of the awards received
DMS Software Technologies bagged the Oracle Cloud Partner Award, having secured the most number of cloud deals. Being facilitated in this category for H1/FY2016 further reinforced the company's efforts over the years in coagulating its standing as a premier partner for Oracle. In pursuing Oracle's goal of becoming the frontrunner of providing cloud solutions across the globe, DMS Software Technologies has proven to be a vital partner in accomplishing this global mission by procuring a vast clientele of sizable growth. These implementations have not only enabled organisations to drive innovation and business transformation, but have also increased business agility through the slashing of costs and cutbacks in IT complexities.

The company was awarded the HCM Award owing to their commitment to Oracle applications, along with the investments made towards building an HCM implementation team. DMS Software Technologies has been instrumental in the implementation of talent management initiatives at some of the largest automotive companies of Sri Lanka. As one of the flagship solutions of DMS Software Technologies, this has enabled many companies to grow and retain the best talent while facilitating collaboration and providing thorough workforce insights to substantially enhance their operational efficiency, across the board.

The company's third accolade was received under the ERP category, having secured the ERP Award for being the pioneer of Oracle application implementation, focusing on ERP in Sri Lanka. Furthermore with the successful implementation of over 25 ERP projects, to date, it was no surprise that DMS Software Technologies bagged this category award for H1/FY 2016. Having been instrumental in birthing a wave of innovation within the industry, the company has empowered organisations to strive for excellence in operational processes by equipping them to face future challenges amidst volatile market conditions.

In voicing his thoughts on this win, Managing Director Lal Chandranath stated that DMS Software Technologies would concentrate on further enhancing their commitment to customer success and integrity by offering its clientele the opportunity to attain measurable success in their respective industries through the company's solution offering. He also reiterated that in addition to the provision of the full stack of futuristic technology and systems from Oracle, his team is also geared to provide enhanced after sales support on a consistent basis. In closing, he added, "The future vision of our company is based on offering our valued clients expertise and optimised solutions that are backed by accountability."

For over 25 years, DMS Software Technologies' longstanding partnership with Oracle has led to considerable capacity building and development of skills and technology initiatives of Sri Lanka. As such the company is at the front end of delivering mission critical technology and applications to a broad range of private and public sector entities of Sri Lanka. Accordingly, in the wake of these industry accolades, DMS Software Technologies is committed to enhance their knowledge and expertise further to sustain and market the next generation of cloud solutions to Sri Lankan companies, with the able support of Oracle and its Distributor EZY.