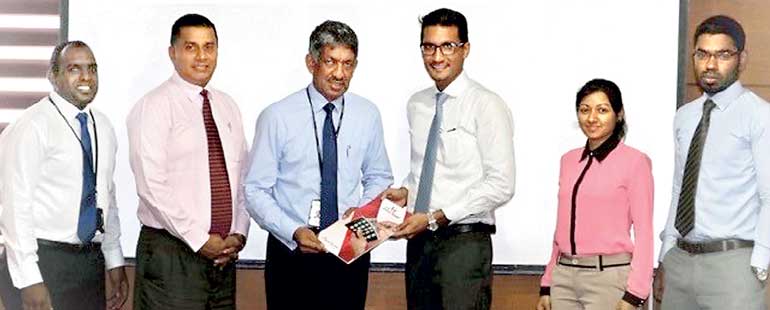 From left: DFCC Bank Assistant Manager Pradeepan, DFCC Bank VP Alternate Channels and Cash Management Denver Lewis, DFCC Bank CEO Arjun Fernando, WEBXPAY Founder/CEO Omar Sahib, WEBXPAY Project Manager Induni Amarasena and WEBXPAY VP Business Strategy Aaqib Afzal
Working to enable a new paradigm in the e-commerce led growth of Sri Lanka, DFCC Bank announced a vibrant new partnership with WEBXPAY to connect the bank's customers to e-commerce merchants.

Through the new partnership, the bank's customers will be able to use their Vardhana Vitrual Wallet as a payment option enabled at all of WEBXPAY'S 600+ network of e-Commerce merchants, thereby linking DFCC's substantial base of customers to benefit from the ease of making their payments online for an extremely wide range of goods and services, including even the most basic daily necessities, while also driving reliable repeat business to the linked up e-Commerce merchants.

Speaking about the new arrangement DFCC's CEO Arjun Fernando said: "Our goal in entering into this partnership with WEBXPAY was two-fold. We wanted to infuse an even more convenient and streamlined experience for our customers, while also helping to develop our nation's e-Commerce space, thereby steering the transition into a vibrant, cashless economy.

"Particularly given DFCC's own extensive expertise in working to offer Sri Lankans liberal access to transacting online, we believe that our partnership with WEBXPAY is very timely, and we look forward to seeing these measures manifest greater prosperity for Sri Lankan businesses and consumers from all walks of life moving forward."

A home-grown Fin Tech startup that was first launched in May 2016, WEBXPAY is designed to seamlessly integrate all available payment channels within a single gateway with a view to driving a new wave of e-Commerce-led growth in Sri Lanka.

"Our partnership with DFCC Bank represents another major step forward in our vision to be the face of change in Sri Lanka. Our goal for WEBXPAY is to support and empower businesses from across the island to participate in this first wave of technology-enabled growth and in this manner help Sri Lankan business sector to transition into a cashless payment eco-system," WEBXPAY Founder/Director Nazeem Mohamed said.

"In that regard, we wish to express our sincere gratitude and appreciation to DFCC Bank for choosing us as their partner to drive the positive changes our organisations are both seeking to effect in the lives of countless Sri Lankan businesses and consumers whose hard work forms the backbone of the Sri Lankan economy," he added.

Supported across all devices, the system places significant emphasis on businesses wanting to offer their products and services online and being able to receive the payments safely to their bank accounts. The service offering is with competitive pricing options and structured monthly payment options.

DFCC Bank has being rapidly growing its footprint across the country with a network of 138 branches and service points. The Bank is committed to improving customer experience through technology and has launched many technologically advanced services such as 24X7 Contact Centre, Internet Banking, e-Statements, SMS Alerts, Mobile Teller and the industry first innovative product Vardhana Virtual Wallet. DFCC Bank remains committed to advancing financial inclusion in the country to allow all Sri Lankans more liberal access to digital banking services.