DELL Sri Lanka has come forward as the Technology Partner of Sri Lanka's flagship ICT Expo INFOTEL 2015. INFOTEL 2015 will be held from 20 to 22 November at the BMICH under the theme of 'Connecting Citizens'.

This event is organised by the Federation of Information Technology Industry of Sri Lanka (FITIS) in collaboration with the Ministry of Telecommunica

tions and Digital Infrastructure Development, Ministry of Higher Education, Ministry of Education, Defence Ministry, the Ministry of Foreign Affairs and private sector institutions. The key objective of this year's exhibition is to mobilise the resources available for the creation of a 'Knowledge Hub' and position Sri Lankan ICT products to showcase the country's technological advancements and innovations.

Dell Sri Lanka and Maldives Country Manager Roshan Nugawela said: "Dell has been growing steadily in the Sri Lankan market and has been able to hold the number one position for overall PC sales in the country for the past nine consecutive quarters. INFOTEL is an important event in the local IT calendar and is a great platform to showcase quality IT solutions. We are delighted to be a part of the event and look forward to some great engagement with local and international visitors."

Dell Inc. is an American privately owned multinational computer technology company based in Round Rock, Texas, and United States that develops, sells, repairs, and supports computers and related products and services. Dell sells personal computers (PCs), servers, data storage devices, network switches, software, computer peripherals,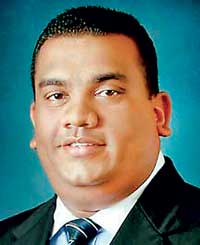 HDTVs, cameras, printers, MP3 players, and electronics built by other manufacturers.

The INFOTEL Information and Communication Technology Exhibition was originally initiated in 1992 and since then, the event was held on a grand scale in 1994, 1997, 2002, 2002, 2004, 2006, 2008, 2010, 2011, 2013 and 2014 under ICT-related topical themes.

For B2B Connections, there will be 200 stalls in special pavilions covering nine sectors (software, hardware and digital devices, telecommunications, cloud computing, computer gaming, mobile computing, emerging technologies, ICT education and training). For B2B Transactions, there will be an INFOTEL Shopping Festival with best bargains for a year round supply and an Online Shopping Pavilion where one can click and pay for unbelievable deals.

Exhibitors are expected to showcase products and solutions ranging from Computer Hardware, Business Software, SAS, Cloud Computing, Virtualisation, iDC, ICT Security, Hosted PBX, IP Networking, Telepresence, Collaboration Technologies, Systems Integration, ITES (IT enabled services), Business Process Outsourcing (BPO), Office Automation to Telecommunication Equipment, Mobile Broadband, NGN (Next Generation Networks), Ubiquity, 3G, 4G, Wimax, LTE, IPTV, IP Convergence, IPv6 Technology, Smartphone Applications, Navigations and LBS (Location Based Services), ICT Training, Electronic Media, Computer Gaming, Medical Electronics, e-Citizen Services. For more information on INFOTEL 2015, log on to website www.fitis.lk or email manager@fitis.lk.