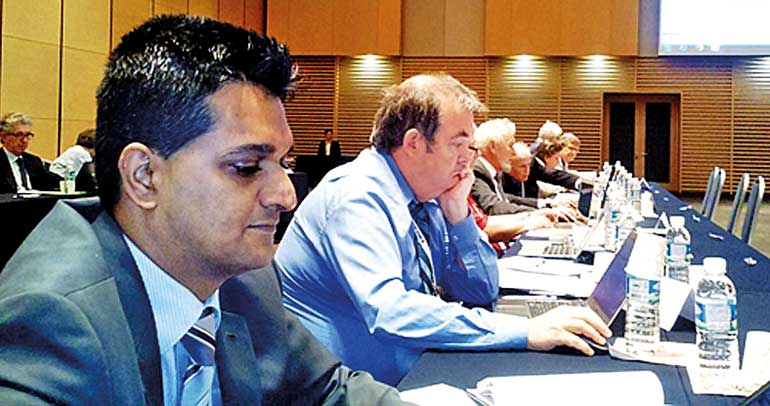 CSSL Vice President Yasas V. Abeywickrama participating at IFIP General Assembly Meeting in Daejeon in South Korea
The Computer Society of Sri Lanka (CSSL) represented Sri Lanka at the recently concluded General Assembly Meeting of International Federation for Information Processing (IFIP) held in Daejeon in South Korea. There were many meetings and events organised together with the World Computer Congress at Daejeon Convention Centre.

IFIP is the leading multinational organisation in Information and Communications Technologies and Sciences and it is recognised by United Nations and other world bodies. It represents IT Societies from 56 countries or regions, covering all five continents with a total membership of over half a million and links more than 3,500 scientists from Academia and Industry, organised in more than 101 Working Groups reporting to 13 Technical Committees. It sponsors over 100 conferences yearly.

CSSL was represented in the General Assembly by its President Dr. Dayan Rajapakse. CSSL Vice President Yasas V. Abeywickrama also attended the meeting.

The CSSL was established in 1976 in Sri Lanka by a group of dedicated professionals for the purpose of promoting Information and Communication Technology (ICT) and professionalism among those engaged in this field, and to maintain the highest professional standards among the ICT professionals.

A key win for Sri Lanka at this forum was that Abeywickrama was elected as a Councillor of the Board of the IFIP. This is the first time in the history of 55 years of IFIP that a Sri Lankan was elected to the decision making body of this international organisation. Its great recognition and achievement as IFIP is clearly the largest international body in the field of ICT.

Dr. Rajapakse said, "At these sessions, we were able to engage with international ICT leaders to connect our industry with the world even more strongly. Our work in the recent past has put Sri Lanka on the global ICT map, and that will have long term positive impact in terms of helping create a vibrant local ICT industry. I also make this an opportunity to congratulate Yasas V. Abeywickrama on his election as a Councillor of IFIP. His recognition in the international ICT arena has always benefited CSSL as well as Sri Lanka, and I believe this role will create further benefits for us."

Rajapakse also attended the board meeting of SEARCC, the Asia Pacific federation of professional ICT associations held just ahead of the World Computer Congress in Daejeon, South Korea. The meeting was chaired by SEARCC President Dr. Dayan Rajapakse from the Computer Society of Sri Lanka. The meeting agreed to a new plan of strategic action. The Executive Council also appointed a new President, Dr. Nick Tate from the Australian Computer Society. The SEARCC Executive Council member economies include Australia, Sri Lanka, India, Malaysia, Papua New Guinea and Taiwan.

Dr. Rajapakse said that SEARCC has established a clear direction to demonstrate the importance of ICT in the region by illustrating the economic impact of ICT and he looks forward to Sri Lanka's continued active participation in contributing to regional ICT industry activities.