Colors Mobile has launched a new series of cutting-edge 3G smart phones named the Zoom Series.

The Zoom Series which has been introduced to the market includes X28 and X30 while another phone from the same range, X25, will be launched in May. In addition to that X35 and X56 are also lined up to be launched in June to amaze the smart phone enthusiasts in the country.

With these phones and more surprises on the way, Sri Lankan users will be able to enjoy a whole new mobile experience from now onwards, which will redefine the way mobile devices are viewed in Sri Lanka.

All phones in the Zoom range come with the latest Android operating systems while being packed with a range of high- end features including Mega pixel rear cameras to capture every special moment in life which can then be instantly shared on face book with the click of a button.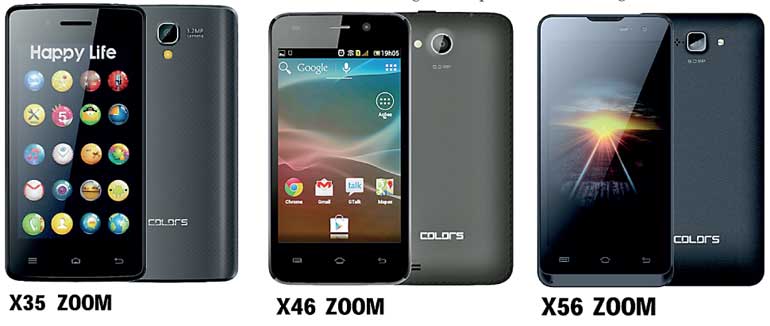 With its wide range, every smart phone enthusiast can easily find the perfect match to his needs no matter how unique they can be. What's more, the attractive prices of the Zoom range also open the door for users who want an advanced mobile experience while being highly price conscious at the same time.

With Colors mobile phones, users can enjoy not only advanced mobile phone technology but also be rest assured with one year comprehensive warranty from Orange Electric, Sri Lanka's leading manufacturer of electrical and electronic products and also the sole agent for Colors mobiles in Sri Lanka.

The range of Colors mobile phones is now available island-wide from the extensive dealer network of Orange Electric.