Cisco has released the findings of a global study indicating that while cloud adoption continues to accelerate, few organisations are maximising the value that cloud can offer. According to the study, nearly 68% of organisations are using cloud to help drive business outcomes, a 61% increase from last year's study. The increased cloud adoption is being fuelled by cloud-native applications, including security and the Internet of Things (IoT) cloud-based solutions.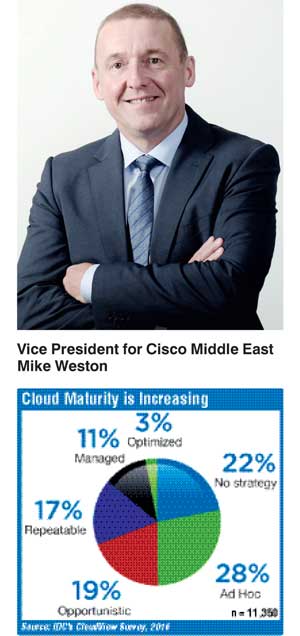 However, most organisations (69%) do not have mature* cloud strategies and only 3% have optimised cloud strategies generating superior business outcomes.

On average, the most "cloud advanced" organisations see an annual benefit per cloud-based application of $3 million in additional revenues and $1 million in cost savings.These revenue increases have been largely the result of sales of new products and services, gaining new customers faster, or accelerated ability to sell into new markets.

The study also reveals that 95% of those leading organisations with optimised cloud strategies have built a hybrid IT environmentthat usesmultiple private and public clouds based on economics, location and governance policies.

"Our customers are dealing with increasingly diverse and complex environments as their hybrid and multicloud deployments grow. These customers want the freedom to choose the best environments and consumption models for their traditional and cloud native applications, which all drive a variety of business benefits. Yet, as this research bears out, while many customers are embracing cloud, most are still in the early stages of their journey to an optimised cloud model. That is where our new and enhanced Cisco Professional Services can help. Working with our partners, our joint services offerings are designed to help customers achieve a highly secure and optimised cloud environment specific to their unique business needs," said Mike Weston, Vice President, Cisco Middle East.

The Cisco-sponsored InfoBrief'Cloud Going Mainstream: All Are Trying, Some Are Benefiting; Few Are Maximising Value' was developed by International Data Corporation (IDC). The study is based on primary market research conducted with executives responsible for IT decisions in over6,100 organisations across 31 countries that are successfully implementing private, public and hybrid clouds in their IT environments.This marks the second year of the study,nearly doublinglast year's sample size.

In the study, IDC identifies five levels of cloud maturity: ad hoc, opportunistic, repeatable, managed and optimised.

According to the study, organisations face a number of obstacles to achieving greater cloud maturity, including capabilities and skills gaps, lack of a well-defined strategy and roadmap, legacy siloed organisational structures, and Information Technology/Line of Business (IT/LOB) misalignment.


New Cloud Professional Services

In addition, Cisco is launching a new set of Cloud Professional Services to help businesses navigate the multicloud maze and optimise their cloud environments. These services will help customers bridge the skill-set gaps they may be facing as they accelerate their digital transformation strategies and cloud native initiatives.

Available now, these Cisco Professional Services will include:

nNew multicloud management and orchestration services for Cisco Cloud Center empowering customers to model once, deploy and manage anywhere.

nNew Cloud Acceleration services that accelerate the design and deployment of both traditional private clouds and cloud-native solutions such as OpenStack and PaaS.

nEnhanced application and cloud migration services to automate and de-risk the complexity involved in onboarding and migrating applications and workloads to the cloud.

nNew IT transformation services focused on DevOps-related change management initiatives that help align business processes and capabilities enabling customers to integrate and optimise across both traditional and DevOps environments and teams.

In the future, Cisco plans to offer an integrated strategy workshop combining the Cisco DomainTen Service with Cisco Business Cloud Advisor Workshop. The Cisco and channel partner-delivered workshop will help organisations identify cloud adoption gaps and benchmarks, continuously improve their multicloud environments, and facilitate alignment between IT and line of business (LOB) stakeholders. The workshop will also help organisations better measure the potential impact of cloud adoption in their IT organisations across a broad range of key performance indicators.