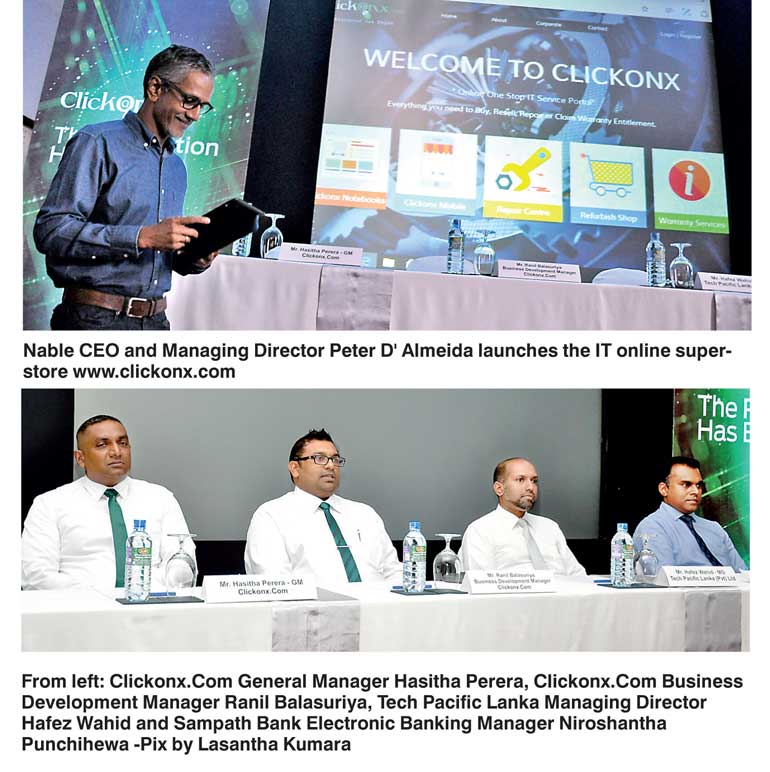 Sri Lanka's latest gadget and IT online superstore www.clickonx.com was launched recently. Clickonx.com will enable customers to shop online for a range of IT products and mobile phones.

Customers can also sell their used laptops and mobile phones for an attractive price through a bidding system catering to busy Sri Lankans. Clickonx.com is an accessible, innovative web portal where customers can view all the products in a 360-degree view. This will enable them to view quality images of the products they wish to purchase. The fresh, sophisticated designs showcase the site's expansive collection of products supported by an innovative and functional interface.

This site boasts of an easy, quick and painless checkout process which will give online shoppers a convenient way to shop for IT products or mobile phones online.

"We are excited to launch an online web portal in Sri Lanka," said Tech Pacific Lanka Managing Director Hafez Wahid.

"This significant milestone fully rounds out Tech Pacific's multichannel offering. Our customers will now have a 24-hour-access to the best of IT products and mobile phones on their computers, smart phones and tablets from anywhere in Sri Lanka," he further said.

Another unique feature of this brand new website is the availability of online-repair assistance for all types of laptops, computers, mobile phones and other IT related equipment.

Customers can also shop online for warranty services and after sales support.

Clickonx.com is another brainchild of Tech Pacific Lanka Ltd., a Silver Partner ready service delivery specialist of HPE (Hewlett Packard Enterprise).

Tech Pacific is a distributor for Hewlett-Packard Enterprise, Rucker's Wireless Solutions, Emerson Data Centre solutions and UPS, Sony projectors, AcumenCCTV Solutions, AVG Anti-Virus solutions and they are a SAP Gold Partner.

Tech Pacific Lanka Ltd. is a consultant and specialist in IT solutions with over nine years of expertise.

Clickonx.com's goal is to be the place to go when you want to find the latest IT products or mobile phones.