Announces the upgrading of the ISO 27001:2013 certification for Information Security and the surveillance of ISO 22301: 2012 for Business Continuity
Only telecommunication organisation in Sri Lanka to receive these certifications for all locations and departments
Has received these certifications continuously for the past four years
Bharti Airtel, a leading global telecommunications company with operations in 20 countries across Asia and Africa, has announced that it has successfully completed the stringent audit process for the upgrading of certification for ISMS (Information Security Management System) and the surveillance of BCMS (Business Continuity Management System) thereby receiving the upgraded standard – ISO 27001:2013 for ISMS and ISO 22301:2012 for BCMS.

Airtel Lanka said that it was the first and only telecom organisation in Sri Lanka so far to be ISO 27001:2013 certified within a short period of six years of market operations within the country.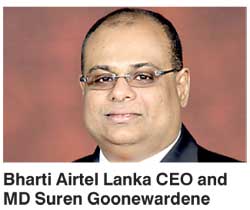 Airtel Lanka achieved this accreditation after a rigorous assessment process which symbolises its commitment towards service excellence and the strength of measures that the company has taken to ensure the quality of services which include both voice and data solutions across its island wide network. The new upgraded set of standards will ensure that stringent measures and controls are incorporated within business processes to ensure Information Security and Business Continuity is strictly practiced within the organisation. Airtel Lanka is also the only telecommunications operator in Sri Lanka to have received these certifications for all its strategic locations.

Commenting on the occasion, Bharti Airtel Lanka CEO/MD Suren Goonewardene said, "Being re-certified by the British Standards Institute cements the fact that Airtel Lanka pays constant attention to quality assurance and the systems we have put in place. We are not only proud of our achievement but also recognise the importance of uninterrupted communication in the world today for both corporate and retail customers and strive to ensure that the security of sensitive information is always maintained and continuity in communications is available in Sri Lanka at all times so that Airtel customers can enjoy secure, uninterrupted services and strong business solutions."

Post this certification, Airtel Lanka will be able to maximise the quality and efficiency of their services based on enhanced security practices provided along with the 'Plan', 'Do' 'Check', 'Act' concept. Airtel Lanka is also equipped with resilience and disaster management tools which would aid in gaining client confidence and increasing reputation as the certificates ensure a recognisable savings in costs and an uninterrupted delivery of services at the face of a disaster, should it occur.

The universal acceptance of ISO standards will result in Airtel Lanka gaining a competitive advantage for the brand in both the local and international business arenas. Re-certification is also a key indicator that the company remains committed to maximise the quality and efficiency of their services based on the international best practices even as they grow. With these certifications Airtel Lanka will continue to provide excellent service to customers thereby exceeding their expectations.