First global gathering of internet technical community since the US Government handed over its internet control

Eran says internet an essential tool to address barriers in social and economic integration

Bangladesh Information Minister proposes APNIC for a cyber security treaty at global level, legal framework for Asia Pacific

APNIC and Sri Lanka CERT|CC inks MoU to build internet security capacity in SL

By Charumini de Silva

Asia Pacific's most significant internet event, APNIC 42, hosted for the first time by Sri Lanka, kicked off yesterday at the Hilton Colombo to explore business opportunities and share knowledge and experiences which will be contributed by experts and professionals from different parts of the world.

The three-day conference is the first global gathering of the internet technical community since the US Government allowed its contract for key internet naming functions to lapse, handing responsibility for managing those functions to the global internet community.

The event is supported by Sri Lanka CERT|CC alongside ICTA, LEARN and CSSL. Over 400 delegates from government organisations, research and educational institutions, internet service providers, data centres, internet exchange points and online content providers from across Asia Pacific participated in the event.

The conference was officially launched by State Enterprise Development Deputy Minister Eran Wickramaratne and Bangladesh Information Minister Hasanul Haq Inu.

A Memorandum of Understanding (MoU) between APNIC and Sri Lanka CERT|CC was also signed at the inaugural ceremony to further cooperation between the two organisations on building Sri Lanka's internet security capacity. The MoU was inked by APNIC Director General Paul Wilson and Sri Lanka CERT|CC CEO Lal Dias.

Wickramaratne said the future of the cyber community would depend on strengthening strategy and partnership with internet partners to serve a purpose which should be broader than the simple growth of the economy, insisting that it would assist to build a healthier and cleaner society with more social justice where people would be happy and content.

The Minister highlighted the internet as an essential tool to breach barriers to social and economic integration, noting that it played a fundamental role in developing the country.

Saying that Sri Lanka had adopted an ICT policy which met the millennium development goals (MDGs), he asserted that the key policies were to address social and economic development by encouraging public-private investment in the sector while effectively delivering better public services.



"Internet growth in Sri Lanka is strong and it will continue to grow. This will also be a key factor to accelerating Sri Lanka's integration in the region," Wickramaratne stressed.

He stated that internet penetration would exceed two billion while mobiles would top five billion, making the Asia Pacific region fast-growing, and create an opportunity for technology-based businesses.

Citing significant developments such as the US Government handing over its internet control to ICANN and cyberspace becoming more liberal every day, he cautioned that these good initiatives could be destructive if not properly regulated.

Therefore Wickramaratne urged the experts and participants to pay attention, not just to the technological aspects of advancement for children but to the protection of children as well.

The Bangladeshi Information Minister outlined poverty, climate change, ICT, sustainable development and terrorism as five major issues that had generated a broad global debate.

To combat cybercrime and terrorism, he said a three-pronged technological, legal and political approach was essential.

Reflecting on the open nature of the internet, Inu said: "A glasshouse is in the making. It needs security and trust otherwise the glasshouse will be compromised."

The Minister proposed that the APNIC Conference push towards a cyber security treaty at the global level and an Asia Pacific regional legal framework on cyber security.

"The challenge of the day is not technology or finance but to have the necessary political will. It is a matter of political decision to connect the next billion and ensure a safe internet, free from terrorists and cybercrimes. Yes to human rights and no to cybercrime and terrorism," he stated.

Internationally-renowned speakers, including Zaid Ali Kahn from LinkedIn, Professor Rohan Samarajiva from LIRNEasia and Internet Hall of Fame member Geoff Huston, shared insights with the assembled participants. Technical presentations held today and tomorrow will cover topics such as internet security, the latest in internet infrastructure technologies and women in ICT.

APNIC Director General Paul Wilson said the conference was a valuable opportunity for the internet technology community from across the region to meet with experts in the field, learn about the latest technical trends, share experience with international peers and deepen professional connections.

"This is the first time the APNIC Conference has been held in Sri Lanka and we are very excited to be here. I encourage all of Sri Lanka's network operators and technical specialists to embrace this opportunity of having the conference in Colombo to attend and share their experiences with some of the world's foremost experts," he added.

Sri Lanka CERT|CC CEO Dias said they were pleased to host the APNIC Conference for the first time in Sri Lanka and encouraged everyone to play an active role in these interesting discussions to set up sustainable policies for the region.

"We want this conference to be recognised as the platform where experts and professionals from the internet community come together to share technology and practical know-how and to openly debate policies and best practices for individual operators as well as for the community at large," he noted.

Dias also expressed gratitude to Deputy Minister Eran Wickramaratne, who was one of the pioneers behind the E-SriLanka development initiative that adopted several measures which included the setting up of Sri Lanka CERT.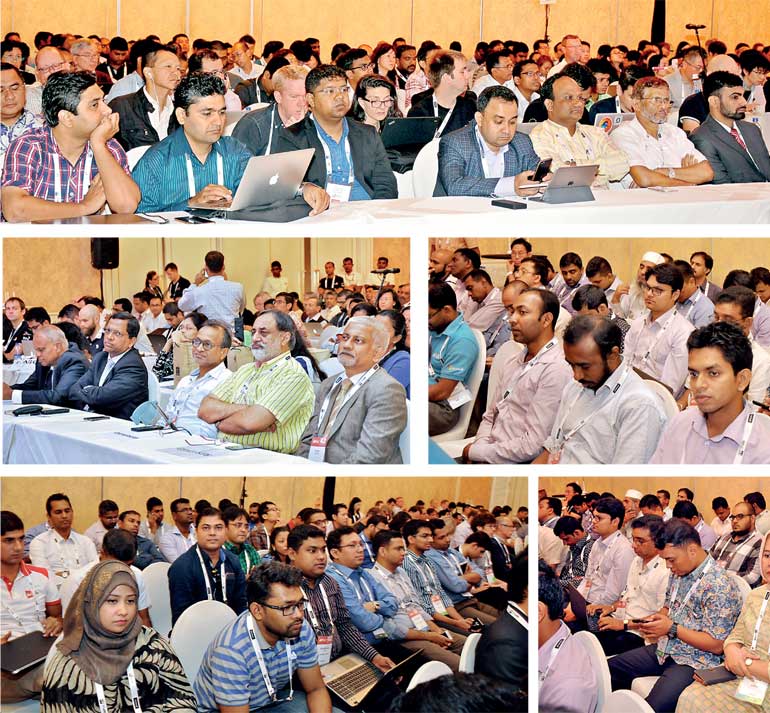 Pix by Lasantha Kumara