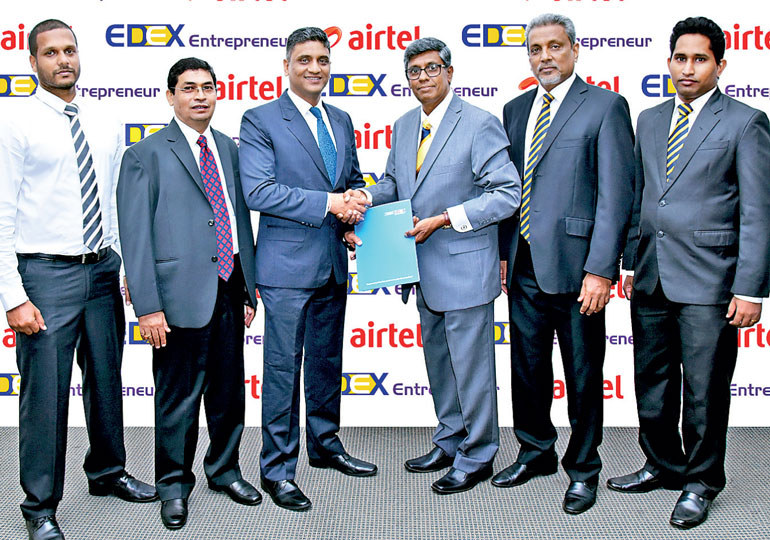 From left: Bharti Airtel Lanka Head Brands and Marketing Communications Charith De Chickera, Bharti Airtel Lanka Chief Financial Officer Narendra Vaidya, Bharti Airtel Lanka Chief Marketing Officer Chandrashekhar Singh Chauhan, EDEX Chairman Mahinda Galagedara, Royal College Union Secretary Athula Munasinghe, EDEX Director Entrepreneurship Upul Erandaka
In keeping with their mission of fuelling the dreams of Sri Lankan youth, Airtel announced its partnership with EDEX Expo 2017 by powering this year's entrepreneur zone. The zone is designed to provide inspiration and guidance to aspiring young leaders to pursue their business ownership dreams.

The zone will feature among other things opportunities for budding entrepreneurs to listen to and exchange ideas with some of Sri Lanka's successful young leaders. In addition Airtel will have its SME team on site to provide solutions to a variety of business design and operation challenges. The exhibition is scheduled to take place at the BMICH from 20 to 22 January. Visitors to the Airtel stall on the final day will be in for a real treat, when brand Ambassador Pooja Umashankar will be on hand to share her personal rags to riches story and spend some time with patrons.

Speaking on the occasion Bharti Airtel CEO Jinesh Hegde said, "Young entrepreneurs face many challenges on their way to success. In keeping with our brand objective of empowering the youth of Sri Lanka achieve their dreams, we've partnered Edex Expo 2017 and set up a Zone targeted at the young entrepreneur. The entrepreneur Zone at this year's exhibition will be a great place for them to learn, share experiences and network with a view to make their entrepreneurial dream come true."

EDEX Chairman Mahinda Galagedara said, "We are extremely happy that Airtel has found a platform of excellence at the EDEX Expo, to create an alliance of mutual benefit in terms of empowering the youth of Sri Lanka, to explore new horizons and vistas in business. The connectivity, youthful exuberance and passion for excellence are hallmarks of both EDEX and Airtel, and will create a partnership of synergy."

The Entrepreneurship Zone will create a unique platform and an impetus for youth who wish to start their own businesses, who require guidance and expertise in finance and the 'nitty-gritty' of start-ups.

Airtel will add corporate insights and business acumen to the Entrepreneurship zone, as it has shared values of enterprise, empowerment and service excellence.

Bharti Airtel Lanka commenced commercial operations of services in Sri Lanka on 12 January 2009, and was the fastest operator to reach one million customers in Sri Lanka. With its network footprint panned out across the country and capturing strategic ranking positions in various areas in less than three years of operations, Airtel has emerged as Sri Lanka's fastest expanding network. Registered under the Board of Investment in Sri Lanka, Airtel Lanka provides digital mobile services into Sri Lanka which includes voice, data and enterprise solutions.