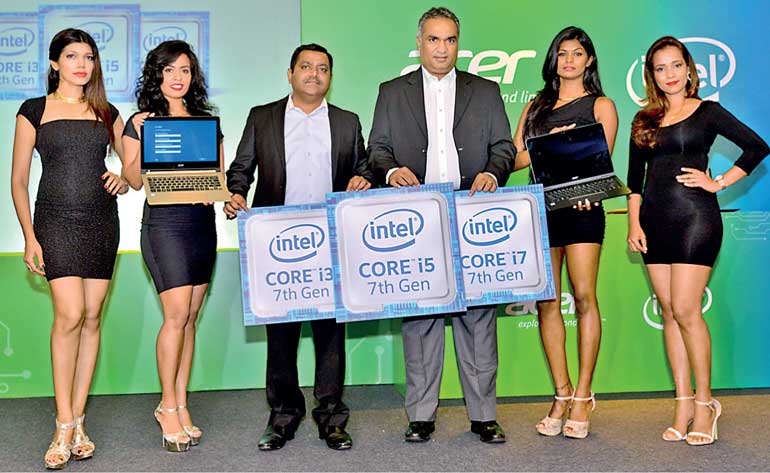 Acer Singapore General Manager Sunil Nair (left) and Intel Country Manager Indika De Zoysa – Pix by Daminda Harsha Perera
7th Generation Intel Core is Intel's newest family of processors for laptops. The 7th Gen Intel Core processor promises to extend the benefits of the 14nm process technology to deliver even more performance. Notably, it includes a new media engine that better supports premium 4K UHD content for viewing, streaming, creating and sharing.

New PCs powered by 7th Gen Intel Core will be better equipped to deliver richer visuals, longer battery life and a more refined and expanded user experience.

Along with the release of the latest 7th Gen Intel Core processors, Acer will refresh its line up of laptops to house this new chip, and at the same time, bring to the consumer space 2 beautiful flagship products – Swift 7 and Spin 7, which embody both style and speed in their svelte silhouette.

"With the advancements offered by 7th Gen Intel Core processors and our proprietary technologies, Acer is pushing the limits of ultrathin notebook design, in both form and functionality. With our new and exciting lineup of thin-and-light notebooks, we are excited to give consumers powerful and beautiful devices for all of their work and play needs," said Acer Singapore General Manager Sales Sunil Nair.

"7th Gen Intel Core processors set a higher bar for richer experiences, incredible performance and responsiveness, and true ultra HD 4K entertainment in stunning new devices for use at home, in the office and on the go. Acer's latest 7th Gen Intel Core powered devices are feature-rich systems offering capabilities such as Thunderbolt 3, stylus and voice input, coupled with innovative designs, offering consumers in Sri Lanka some of the most beautiful 2 in 1s at a range of price points," said Intel EM Ltd. Sri Lanka Liaison Office Country Business Manager Indika De Zoysa.