The top-of-the-pile Predator Gaming Machines provide an epic gaming action for a bolder, brighter immersive experience. Don't just watch the action – get thrust into it as you overtake battlefields with settings customized to your preferred style. These machines are war-hardened, fully featured and ready to go against all odds, as the ultimate gaming PCs. Tough and capable as they look, they allow you to chart new territories while you rise to the top of the tribe and experience clarity like never before, with smoother motion and richer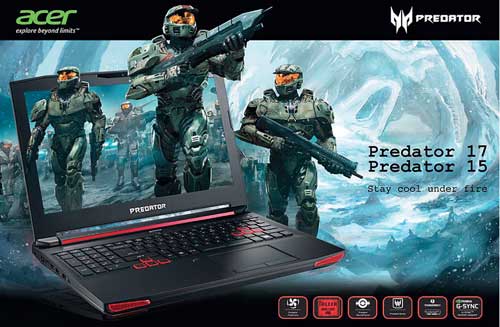 colours.

The Acer Predator 15 and 17 are fueled by Intel's sixth generation Core i7 processors that are paired upto 8GB NVIDIA GeForce GTX980M. Acer has included a swappable and a dust defender that prevent the machines from heating up on long plays. The most talked-about feature is the cooling system that allows gamers to swap the optical drive for a fan module. This swapping feature is made possible through an ACER-exclusive Frost Care technology designed by Cooler Master.

At the same time, the Predator Sound Pound provides ultra sound effects that are vital for gaming, with its four in-built speakers and two subwoofers supported by a Dolby Audio sound enhancement system.

The Predator G3's powered by Intel's sixth generation Core i7-6700U processors and run on Windows 10. The 16 GB RAM is expandable up to 1TB of external storage, a further 256 GB via SSD. Sporting an armor design, the G3 houses "One-Punch" CPU that comes with a cooling system to prevent it from heating up during high-speed, intense gaming. The G3 also includes NVIDIA's GeForce GTX 970 graphic card.

Acer made a big impression at IFA this year, where it presented its revamped monitor collection. The Predator X34 is the first of the three beastly gaming monitors to come out into the spotlight. The 34-inch gaming display relies on an increasingly popular design choice. The 21:9 aspect ratio comes close to real-life vision, which could happen in a 16:9 ratio. The slightly curved shape increases the immersion factor, and the more monitors you line up, the better. In opposition to a 4K display, which will drain the life out of your graphics card, the QHD 3,440x1,440 resolution of the Predator X34 is just high enough without being back-breaking. The tilt and height of the monitor are adjustable for increased ergonomics. Its stand allows for height movement over 5-inch range and you can tilt the monitor from -5 to 35 degrees. Acer considered the needs of gamers who prefer their monitors to be wall-mounted and provide a VESA option.

Two models of Acer Predator (592 and 792) Laptops, G3 Desktops, 28" and 34" monitors are available at Abans and Abans Elite Showrooms Islandwide.