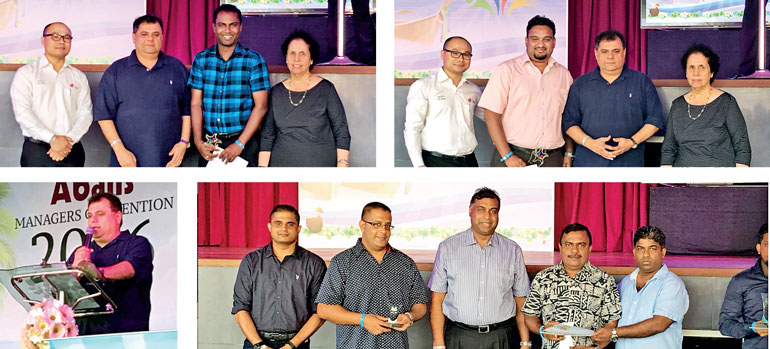 The annual Abans Managers Convention 2016 was recently held from 23 to 27 October, at RIU Hotel Ahungalla for all Retail and Elite Showroom Managers and Supervision Managers, and their families for three consecutive days.

Since its inception in 1998, the Abans Managers Convention has focused on felicitating and recognising the achievements of showroom and supervision managers currently promoting Abans here in Sri Lanka and overseas. This event signified Abans' primary aim of further strengthening and reinforcing engagement and motivation amongst its employees.

The event presided under the auspices of dignitaries from Abans PLC, namely, Chairperson Mrs. Aban Pestonjee, Group Director P.N. Pestonjee, Managing Director Tito Pestonjee, Director Clive Fernando, Deputy Director Channa Pathirana and Deputy General Manager Piyal Nupearachchi. Delegates from LG Electronics as well as the key senior management from Abans PLC also graced the occasion.

Piyal Nupearachchi welcomed the distinguished invitees and the showroom managers, while warmly thanking the showroom managers for their continuous support towards achieving exceptional growth during the last financial year. Channa Pathirana also addressed the gathering, emphasising the importance that the Abans sales employees should place on being customer centric and using the international training already being provided by Abans' global partners.

Tito Pestonjee further provided remarks on the integral role that the Hire Purchase Department and properly managed inventory play in improving both the sales and growth of the company.

Finally, Chairperson Mrs. Aban Pestonjee delivered the keynote address, underscoring the fact that all showroom managers should continue the CSR programmes that have already been put in place by Abans PLC.

The Abans Managers Convention also rewarded over 250 Showroom and Supervision Managers for their outstanding performance during the previous year.

The winners of the Best Showroom Manager of the Year were Gamini Sooriyabandara, Suranga Prageeth and Dilantha Mahesh, while the awards for the Best Regional Managers were given to V. Nishanthan, Charith De Silva and Nell Munasinghe.

For the Best Sales Managers award category, the winners were Rohana Kandage and Lalin Anthony along with Ithaya Diroy and Changa Nishada obtaining the Best Zone Manager award.

Priyashan Senarath was awarded the Best Mobile Coordinator with Roshana Maduranga being the winner of the Best Accounts Supervisor category.

Lastly, Dilan Illukkumbura was adjudged the Best Elite Showroom Manager.

Throughout the conference, the Showroom and Supervision Managers, and their families were provided with a vast array of entertainment, such as kid's activities, family games, and entertainment acts, which drew in a strong positive reception.