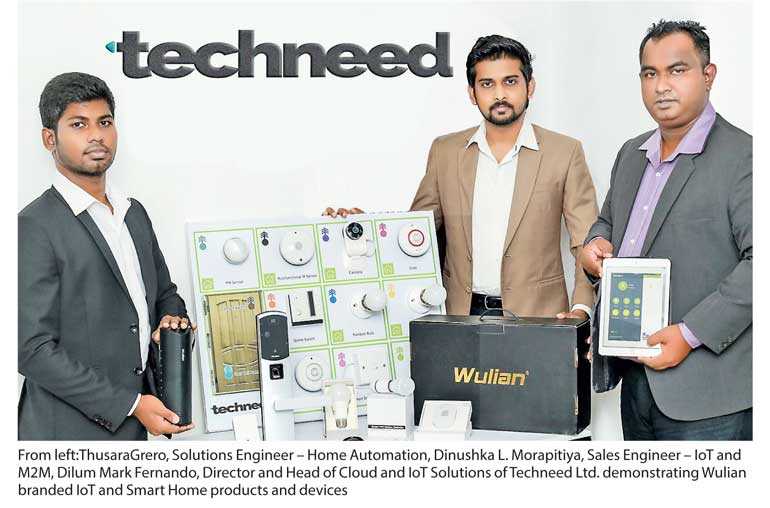 Wulian, a professional manufacturer and global leading supplier for IOT, Smart Home products and solutions has announced the appointment of Techneed Ltd. one of Sri Lanka's growing high-tech IoT start-ups as an authorised distributor in Sri Lanka.

This will enable the company to expand its market share, for its complete IOT, Smart Home product portfolio.

Wulian is the global leading supplier for loT devices and solutions. Based on ZigBee wireless communication technology, Wulian is dedicated in independent R&D, manufacture, promotion and operation of loT smart home systems. Wulian also provides personalised Internet of Things solutions for customers, including smart home, smart building, smart hotel, smart breeding, smart agriculture, etc. Wulian started up in 2005 and set up ZigBee Professional Research Department in 2007. In 2009, it was formally founded and began to research and promote loT wireless smart home devices and solutions. In 2015, Wulian joins the ZigBee Alliance at the 'Promoter level, as the twelfth member of the Board of Directors after Philips, Legrand, Schneider, etc.

Techneed, a high-tech IoT start-up in business value creation, technology distribution and assist with technical support, will provide a strong focus on developing segments of the Sri Lankan markets for Wulian. In the first quarter of the year 2018 Techneed deployed its "Nurve IOT Gateway" in one of the largest Telecommunications Service Provider in Sri Lanka. Essentially the gateway enables the Service Provider to centrally monitor the environment variables in the Machine room, such as Temperature, Humidity, Movements, Water level, etc. from the Network Operations Centre (NOC), thus enabling improvements in Operational efficiency. The purpose built device is designed, fabricated and manufactured locally; by "Techneed" own skilled resources consisting of Hardware and Software DevOps (Development and Operations) Engineers.

"Techneed" has a rich portfolio of Low Power Wide Area Network (LPWAN) based IOT sensors for all situations such as, Water level monitoring, Temperature and Humidity monitoring, Movement monitoring, to name a few. This is pivotal in providing solutions in Smart Car Park Management, Smart Waste Management, Smart Water Management. Particularly the Sensors and gateways are based on LORA protocol and CAT-M IOT technologies.

Techneed will distribute the complete range of Wulian solutions including Video Monitoring, Smart detectors, Smart controls, Light Controls, Home security, Health Services, etc. through an overall system of Smart Control of Residence.

Through the Wulian partnered leading Zigbee wireless technology powered eco-system, Techneed abled to provide a complete set of technical solutions from the object link module to the intelligent equipment and cloud platform including Gateway, Lighting Control, Appliance Control, Home Security, Home Comfort, Health Service, Integrated Service, New Products, Smart Kits.

"We have harnessed the power of IoT and its capabilities and also we are committed to speak in the language of IoT to make them simpler to understand and use in a day-to-day life by anybody. In developing countries, more of the population has access to basic telecommunication network coverage than has access to fundamental services such as electricity, running water and basic sewage facilities. Economic sectors and processes in developing countries are more labour-intensive and may lack supporting processes. We have leveraged the innovative technologies to facilitate home and enterprise environments on to digital platforms. We cannot predict the future, but we can imagine it. So we are happy to partner with Techneed and support them technically for establish a long term relationship in order to create new possibilities in Sri Lankan's digital life and we are truly helping to unleashing it," said Wulian International Overseas Director Ada Liu.

"The partnership with a world leading company such as Wulian is yet another milestone and brings more variety to our current strong IOT product portfolio. IoT will have a major impact in areas such as grassroots delivery of healthcare and education, positively transforming communities within a time frame that would have been unimaginable just a few years ago. We are focused on bringing Wulian's superior technology to enhance customer experience and empower their digital lifestyle," said Dilum Mark Fernando, Director and Head of Cloud and IOT Solutions of Techneed Ltd.