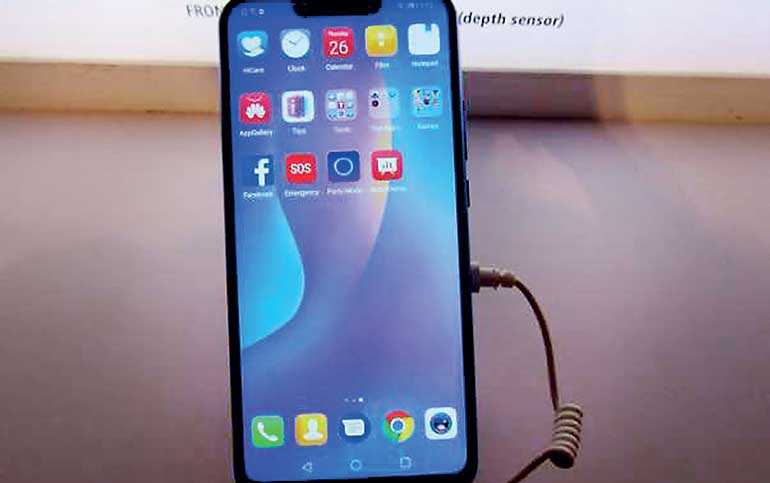 EMUI 9.0 with MATE 20 Series
Huawei has presented the much anticipated EMUI 9.0 OS based on Android 9 Pie to the recently launched Mate 20 series. As Mate 20 series offers a wide array of revolutionary features, EMUI 9.0 takes a bold stride towards the theme of "Enable a Quality Life", achieving several revolutionary breakthroughs that will redefine the user experience of smartphone users.

Commenting on the EMUI 9.0 features Huawei Devices Sri Lanka Country Head Peter Liu said: "The year 2018 marks the sixth year of Huawei launching its own first Android-based mobile operating system (OS), EMUI. Following the announcement of Android 9 Pie OS earlier this year, Huawei has become one of the first handset makers that introduced its customised version EMUI 9.0, which was first revealed during IFA 2018. We are delighted to present this much anticipated OS upgrade, with our latest Mate 20 series."

He added: "Adhering to the principle that less is more, Huawei has revisited the user interface (UI) design to instil the concept of simplicity and consistency and create the quality user experience. The Settings menu is built in under the principal of 'Simplified, Unified, Humanised' to avoid confusions of too many options. A surprising 10% of items of the Settings Menu have either been removed or stowed away in an 'Advanced' tab, and various prompts have been combined to simplify the process. For instance, instead of having separate prompts for enabling GPS, WLAN and mobile location services, EMUI 9.0 asks for permission for all of them at once. Meanwhile, those with an adventurous spirit could still explore the detailed functions in the advanced settings."

The EMUI 9.0 has opted forward for an elegance inspired by Nature to provide unparalleled visual delights to the users. EMUI 9.0 delivers all new visual and audio features that are inspired by these elements. Many informative illustrations have been redesigned to incorporate nature motifs, and the system adds new sounds of nature to its list of default ringtones, ranging from the sounds of water flowing to birds chirping, as the natural sounds provide a soothing audio experience to users.

Inspired by the vibrant, ever-changing colours of nature, EMUI 9.0 utilises Huawei's Smart Colour Picker which presents a more cohesive, pleasing interface to the users. This feature also improves the contrast and vibrancy of the user experience as well as the readability of text, creating a thoroughly immersive, natural experience.

To elevate the user experience, the device presents a unified design language mused with ergonomic design and invisible navigation keys. Controlling the device is much more intuitive, allowing users to spend less time learning and more time experiencing. EMUI 9.0 groups all frequently used features in apps – such as email, contact, calendar and notes and relocates them to the centre of the bottom half of the screen so that they are within the reach of user's thumb. These intricate changes are aimed to elevate the consistency of the experience.

As to the ergonomics design of EMUI 9.0, the features deliver a sustainable, healthy and comfortable user experience. The motion displays of the devices are more fluid and all frequently used buttons such as Bluetooth and W-Fi now have a toggle response time of less than 100ms. The scrolling speed between pages is also much faster in EMUI 9.0.

With invisible navigation keys, EMUI 9.0 adapts an all new gesture based navigation system. This system supports many intuitive features that makes single handed operation even better. With either a tap or a flick, users can perform the navigation bar actions.

AI is the latest highlight in the smartphone industry to inspire smarter lifestyles through technology. EMUI 9.0 offers some exciting AI features such as Hi Vision and Hi touch. Starting with the HiVisionin which information of objects within the camera lens are presented, AI Shopping that takes online shopping to the next level, to AI Calories feature that detect the calories information of food, the OS has provided an all-encompassing experience that merges the digital and physical worlds.

EMUI 9.0 also comes with a wealth of extra new features. They include Password Vault, a feature that securely stores user passwords locally, as well as digital wellbeing features such as Digital Balance for monitoring usage, App Limits to set time limits for various apps, and Wind Down, which turns the screen grey during sleeping hours.

The Mate 20 series devices comes with a one year warranty and will be available for consumers at all Huawei Experience Centres with Sri Lanka's leading smartphone marketer, Singer Sri Lanka PLC,, ensuring the availability of the Mate 20 series devices island wide.

Selected Dialog and Mobitel outlets will also market the new devices with the Huawei Mate 20 priced at Rs. 124,999 and Huawei Mate 20 Pro priced at Rs. 174,999. The designs are available in 6GB RAM + 128GB ROM configuration and Porsche Design Huawei Mate 20 RS with 8GB RAM + 256GB ROM is priced at Rs. 299,999 for customers in Sri Lanka.