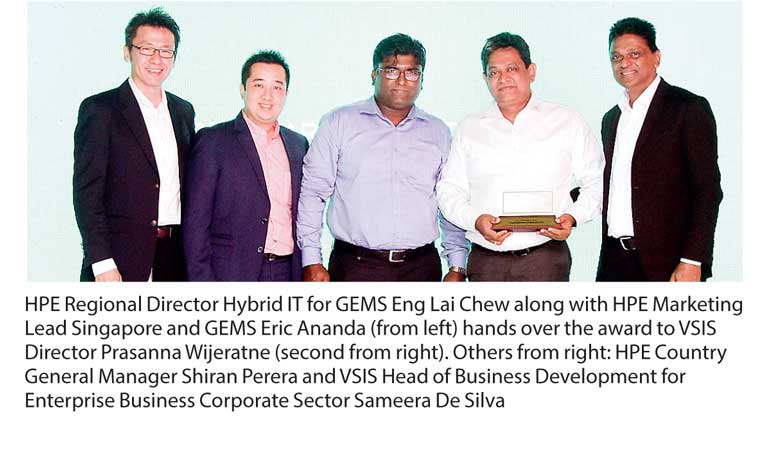 V S Information Systems (VSIS), a leading systems integration company in the country, was recently presented with a range of awards from HP Inc. (Hewlett-Packard Inc) and HPE (Hewlett Packard Enterprise).

VSIS was recognised as the 'Best Corporate Partner' and the 'Best Service Partner' for Personal Systems for FY 2017 at the 'HP Partners Night' which was held at the Weligama Bay Marriot Resort & Spa. While VSIS was recognised by HP Inc with the above awards, Hewlett-Packard Enterprise (HPE) also recognised VSIS with the 'Partner of the Year' award for FY 2017. In addition to this, Sanjaya Pussegoda, Head of Presales at VSIS was recognised as the 'Best Presales Person of the Year' and Jiffry Ilham, Manager Business Development at VSIS was recognised with the 'Manager's Recognition Award for Competitive Win Back' as well. These annual awards recognise VSIS' commitment to excellence in delivery of solutions to its customers along with exceptional support services offered by VSIS.

VSIS has moved forward to display immense versatility and resilience by ensuring that the company leads their competition by excelling in all business spheres. This is reflected through these coveted awards and showcases the company's superior technical competencies and knowledge based business approach that stands apart from competition.

Expressing his views on the recent wins of the company, VSIS Director Prasanna Wijeratne stated, "We are truly humbled and elated with these influential wins, both, from HP Inc. and HPE. VSIS' approach of identifying and understanding the customer needs and providing the best in-class solutions for their requirements has made a world of a difference to all the stakeholders. We are very proud of our workforce who are well qualified and has extensive experience in diverse areas of expertise. These we believe differentiate us from the rest of the companies. It is our customers who have made us successful today and allowed us to come this far."

The HP Partner of the Year award distinguishes VSIS from other local channel partners for their commercial business prowess and incomparable engagement when it comes to boosting HP's footprint amongst Sri Lankan clientele and helping to uplift revenue through their partnership with HP.

This isn't the first time in which VSIS has been recognised with such accolades as the company has continuously leveraged on their partnership with this world recognised brand and garnered many achievements and milestones in the local industry as well as globally, since their inception.