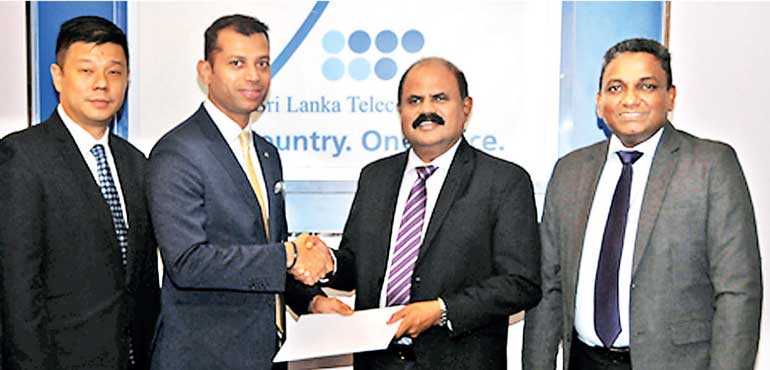 From left: VMware Country Manager – Nascent Markets Daniel Choo, VMware Vice President and Managing Director – Southeast Asia and Korea Sanjay K. Deshmukh, Sri Lanka Telecom Group Chairman P. G. Kumarasinghe Sirisena and Sri Lanka Telecom CEO Kiththi Perera
SLT first in country to offer multi-location availability and disaster-recovery-as-a-service to support digital transformation for Sri Lankan enterprises with VMware's best-in-class cloud platform
VMware, Inc., a leading innovator in enterprise software, has signed an agreement with Sri Lanka Telecom (SLT), one of the leading information and communications technology solutions providers in Sri Lanka, to drive cloud adoption and accelerate digital transformation journeys for Sri Lankan enterprises.

The new partnership is part of the VMware Cloud Provider Program, which enables SLT to offer premium cloud services through an "as-a-service" business model to enterprises seeking flexibility, agility and streamlining of workflows.

This partnership will help spur future-forward innovation among local enterprises (large, medium and Government institutions), empowering them with quicker go-to-market strategies through a seamless cloud platform.

With the new state-of-the-art cloud platform powered by VMware, SLT will be able to offer next-generation cloud services to their customers across multiple physical locations, providing enhanced availability options to businesses with mission critical requirements, compliance requirements and businesses that demand proximity to end-customers.

On top of this, the provision of infrastructure-as-a-service (IaaS), disaster-recovery-as-a-service (DRaaS), cloud migration solutions and data backup solutions in VMware NSX will provide a more secure environment where businesses can build and roll out new innovations to meet the dynamic demands of Sri Lanka's fast growing digital economy.

The best-in-class cloud platform also delivers the best of underlying VMware technologies through full compatibility with core VMware software-defined data centre (SDDC) technologies exposed in a policy-driven approach.

Cloud provider-specific features such as multi-tenancy, elasticity, self-service, platform extensibility and more are offered in an intuitive, modern UI. To deal with modern challenges and availability requirements, SLT's cloud platform provides multiple geographic locations, providing the customer with the opportunity to manage cloud services in multiple locations, a first of its kind in Sri Lanka.

Moreover, the provision of stretched clusters and disaster avoidance services will ensure the highest possible availability for mission-critical services and offer an added layer of protection against outages.

"SLT is honoured to partner with VMware, one of the world's leading providers of virtualisation and cloud solutions, to propel local enterprises to the next stage of their transformation journeys with VMware's industry-leading, unified cloud platform. Demand for our cloud services has grown in recent years, and our customers have sought to increase their IT agility, operate more cost-effectively while also supporting their business expansion. At SLT, our unparalleled footprint of secure, certified Tier III data centres in the local Sri Lankan market, in addition to strong regional and global networks makes us the ideal ICT partner for enterprises seeking geo-redundant cloud points, be they local enterprises looking at global expansion, or global enterprises looking to enter the Sri Lankan market. Our partnership with VMware will enable them to make the seamless migration from legacy on-premise to modern hybrid cloud deployments, thereby facilitating a smarter, more streamlined digital infrastructure to power the innovations of tomorrow," said Sri Lanka Telecom CEO Kiththi Perera.

"While Sri Lanka is still in the early stages of digitalising its economy, organisations here are eager to embark on their digital transformation journeys to prepare for a digital future. It is encouraging to see that the Government and business community are making a concerted effort to elevate the country's economy by developing its digital capabilities. The big shift to the cloud will not only catalyse next-generation innovation among local enterprises, but also plug Sri Lanka into the wider region's and global digital economy," said VMware Country Manager – Nascent Markets Country Manager Daniel Choo.