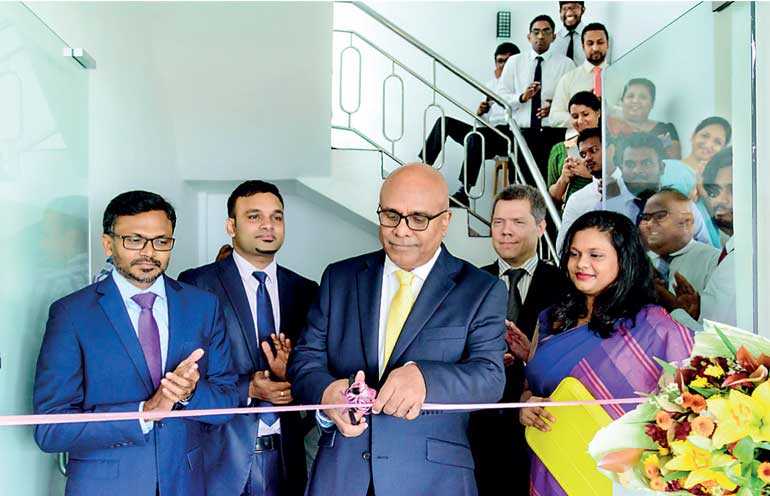 London-based Programus CEO/Founder Shantha Ruban opens the second office in Sri Lanka under its expansion plan. Programus Lanka COO/ Project Delivery Director Nadith Kudagama states (extreme left), Director of Solutions and Marketing Shivanth Alexander Gnanaskandan and CTO/R&D Director Jon Gustufsson are also present
Programus Ltd., the London-based multinational firm recently opened its second office in Colombo after two-decades of operations handling over $ 1 billion worth business in the past two-decade operatiion.

The company also aims to expand further with its third office before end of this year to deliver to its mainly local government clients in Australia, UK, Abu Dhabi among many other countries amid rising demand for its service.

The firm established under BOI in 2000 as Programus Lanka develops best of breed mission critical enterprise software solutions for the Venues, Events and telecom market place boasting enterprise clients in every continent.

It has a subsidiary in Australia and a raft of data centres worldwide including Europe, North America and Australasia.

The success and expansion is attributed to the delivery of cutting-edge software solutions like Optimo and Salestar Connect by an experienced Board and a young vibrant team.

Optimo has been used by the world›s largest and televised event including FIFA World Cup, London Olympics, Dubai World Cup – Meydan, and five Formula 1 Circuits including Silverstone in the UK.

Salestar Connect is one of the leading software solutions servicing the UK and Ireland telecom market for retail, B2B, distribution and franchise used by popular international telco brands Vodafone, EE, and 3.

"The talent and skillset in Sri Lanka with the right exposure and guidance can compete on any world stage head to head," said CEO/Founder Shantha Ruban.

The new office is located next to Majestic City and Bambalapitiya railway station, to help its 100 employees to cut short time in transport. The first office is located in Union Place, Colombo-2.

Chief Technical Officer and R&D Director Jon Gustufsson said the company needs its staff to be creative to make a "huge difference in innovation, quality and efficiencies". COO and Project Delivery Director Nadith Kudagama at the local subsidiary said the fundamental attribute of caring for your employees was introduced and followed by many leading tech companies in the West such as Google and Facebook.

"Delivering enterprise projects to world-class clients is always going to be challenging based on the complex nature of requirements. Our expectation on staff outcome and results is quite high as such it is important for us to reciprocate… by providing the teams a comfortable free thinking environment."

The London-based parent company consists board of directors include Sports AID founder Michael Anselm, who held director positions in Motorola, LG Electronics and Reuters. Other directors include Shantha Ruban, an award-winning patented technology developer, and Richard Phillips, who was instrumental in turning the Formula 1 Circuit profitable.