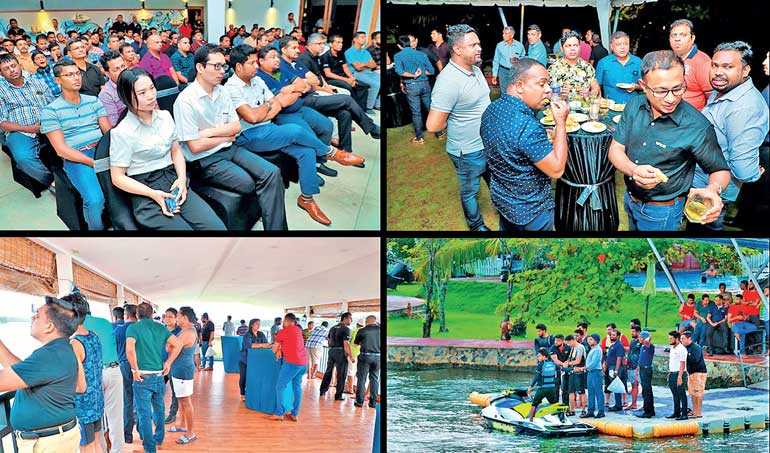 ---
The Debug Group of Companies, a technology driven conglomerate and one of the largest ICT Companies in Sri Lanka, having a presence of over 30+ years in the Sri Lankan market hosted its Annual Channel Partner Meet at the Marina by Amber Collection recently where a total of 120+ tier one Debug Colombo and regional partners from across Sri Lanka gathered in Bolgoda and participated at this memorable event.

The Managing Director-Debug Group of Companies speaking at the event titled 'Evolve' spoke on how the distribution business has evolved over the past years together with the evolution of partner management. He ended the session by appreciating and thanking the partners for another successful year owing to a strong partnership network in the country and for having a 100% participation/turnout for the event.

The event was truly an achievement with participation from over 120+ channel partners across the country. The Managing Director stated that the turnout at the event is a reaffirmation of the trust and faith our partners have placed upon us.

The event kick-started with the invitees being taken on a luxury river cruise, sailing aboard Flow by The Amber Collection-the ultimate in luxury cruising experiences in Sri Lanka.

With its classically elegant ambience, magnificent / enchanting lake views, glowing tropical flora, exotic bird and aquatic life, the partners that participated are sure to have taken back with them memories of the elegant and unforgettable experiences sailing aboard Flow.

The second session and key highlight of the event the 2019 Partner Appreciation Awards where channel partners were awarded trophies by the management of Debug and international representatives of respective brands for their significant contribution for their performance/achievements in sales and aftersales services across several categories for the night was held at The Marina, a country-club style club house and water sports centre situated on the Bolgoda Lake.

A total of 40+ awards were presented on the night to dealers for their achievements and the top prize for the night, the DDC promotion winner – Debug Dot Matrix Challenge – LQ 300 promo winner of a return air ticket to Bangkok organised by Debug was awarded to Seimans Solutions Computers. A total of 14 runner-up winners of this promotion carried home wide screen television sets on the night.

A Tech Technology, Sri Lanka State Trading (General) Corporation Ltd., Wi-Fi Zone, Accell Technology Holdings Ltd., Barclays Computers Ltd., Total AV Solutions, Computerage Ltd., Kodak Sales Centre, Grow Consumer Services, D & S Photo Marketing, Dinal Ltd., A.P.P. Smart Solutions Ltd., Net Gate Lank, A Plus Technology Services, LANKAREAL, PICO engineering Services Ltd., K.T Office Automation Ltd., Business Machine Ltd., City IT & Cameras, Advance Digital Technology Ltd., Seetha Holdings Ltd. and C.S. Enterprises were the rest of the honourees that were awarded for their performance. The Debug Distribution business unit having a network base of over 500+ channel partners island-wide are the distribution arm of the company playing a very vital part, working closely with partners located across the country covering Printing and Imaging, Networking, Power protection, Security and Surveillance, Interactive Learning, Information Security, Document Management, Managed Print Services, Biometrics and Smart Home Solutions segments for a host of high-end brands/products such as Epson printers and projectors, Kyocera printers and copiers, BenQ monitors and projectors, DCP Link networking items, DCP mobile, DCP ups, Dahua CCTV security and surveillance cameras, ZKTECO Biometric products, MATICA ID card printers, UPS by APC Schneider, Eaton, Sophos antivirus and many more ICT products.

The engineering arm of the Debug Group of Companies team consists of well-qualified and trained engineers and other technical personnel to support the diverse portfolio of products and services offered by the group.

Debug has attributed its success with channel partners over the last three decades to a simple set of core values they continue to maintain namely, profitability and growth for partners, representing only the highest quality of products, providing an exceptional level of pre and post sales service and most importantly being genuine. This refers to not just selling genuine products but how Debug works with all its stakeholders including its partners, customers, principals and staff.