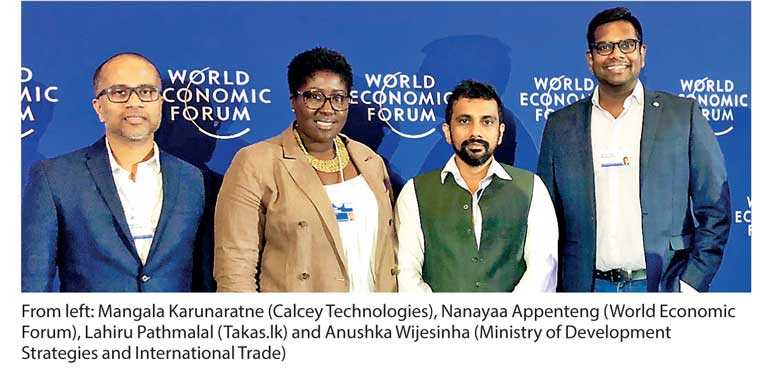 Marking a historic move for the country's startup ecosystem, two Sri Lankan startups were selected to participate in the World Economic Forum's 12th 'Annual Meeting of New Champions' in Tianjin China recently.

Dubbed the 'Summer Davos', the summit focuses on the latest in digital, science and technology, innovation, and driving inclusive growth in the fourth industrial revolution. The emphasis by WEF on inviting startups is a significant chapter in the organisation's life as it has the realised the impact startups are having on the global economy.

Mangala Karunaratne of Calcey Technologies and Lahiru Pathmalal of Takas.lk were selected by the WEF, from nominations sent by the Ministry of Development Strategies and International Trade. Calcey Technologies develops enterprise mobility solutions software for global clients and Takas.lk is the country's leading e-commerce platform that has developed an e-commerce enabler product with a regional market opportunity.

Their participation is part of the continuing engagement between the ministry and the WEF in several work areas, including the WEF's new Global Centre for Innovation and Entrepreneurship and the 'Future of Production Systems' Initiative. Minister Malik Samarawickrama is a member of the Board of Stewards of this initiative. The start-up founders were joined by Advisor to the Ministry of Development Strategies and International Trade, Anushka Wijesinha, who was a speaker in a session on 'Strengthening Innovation Ecosystems'.

Commenting on the experience of participating in the Tianjin event, Karunaratne of Calcey Technologies remarked: "It was great to connect with entrepreneurs and other like-minded folks from around the world, leading the way in their fields. I left the event with inspiration and friendships that will fuel Calcey's growth in the coming years."

Lahiru of Takas.lk added: "Delighted to have had the opportunity to take the ideas of takas.lk to the world. It's also amazing exposure to see how the world's best are working right now."

As participants in the AMNC, these startups will now have access to the forum's new digital platform 'UpLink' that will seamlessly connect start-up founders and funders in a global network.

The participation of Sri Lankan startups at AMNC follows a recent visit by Head of Strategy and Implementation of the Centre for Innovation and Entrepreneurship, Nanayaa Appenteng, who was introduced to the forthcoming 'Innovation and Entrepreneurship Strategy' and met with various public and private sector partners who contributed to developing the strategy.

The AMNC was attended by other eminent personalities like Alibaba founder Jack Ma and global experts in the field of artificial intelligence, blockchain, advanced life sciences and digital governance.