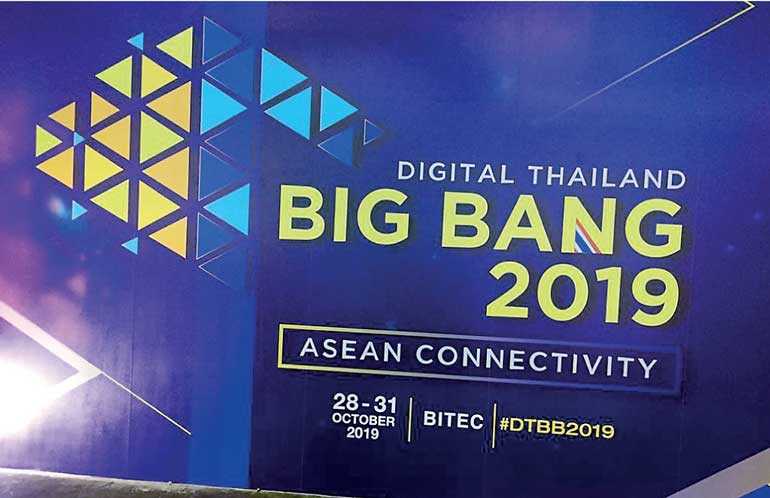 Adding boost to Sri Lanka's growing potential as an emerging world ICT destination of choice, the Embassy of Sri Lanka in Bangkok together with the Department of Commerce of Sri Lanka, organised for the first time, the participation of Sri Lankan IT companies in the 'Digital Thailand-Big Bang 2019 Exhibition' held in Bangkok Thailand from 28-31 October.
The Exhibition which is considered the biggest international conference and exhibition on digital technology and innovation in South East Asia, had the overall theme of 'ASEAN Connectivity', also promoting and featuring Thailand's current Chairmanship of the ASEAN.


Prime Minister of Thailand General Prayuth Chan O Cha declared open the exhibition which facilitated exhibits connecting to three distinct segments, namely 'creativity zone' including advanced creativity in the field of digital technology, the 'society zone', encompassing new ways of improving quality of life and equal opportunities, and 'smart city zone' projecting future outlook of cities.

The five IT companies namely Imara Software Solutions Ltd., Softcodeit Solutions Ltd., Sky Management Systems Ltd., Itechro Ltd., and Silverleap Technology Ltd. displayed their IT products and services ranging from Big Data Solutions, eBusiness Development, ERP Software, ICT Infrastructure and Services, Mobile Application Development, Software Development, Systems Integration, Web Development and Marketing, IOT, Cloud Services, Business Solutions and MIS, Payments Processor and Real-Time System, etc. They already have a strong niche for their software products and services to North America, EU, Australia, East Asia, Middle East, Africa and in the Nordic, and Big Bang 2019 provided an opportunity to further explore potentials to expand into the ASEAN market.

Sri Lanka's IT sector is aspiring to transform the country into the most prepared ICT hub in Asia and it is the fourth highest export revenue generator in the country's economy, catering also as an offshore development centre for several fortune 500 companies from the USA, Ireland, UK, Australasia, Sweden and joint venture development companies from Sweden, Norway, USA, Japan, etc. The Exhibition brought in more than 200 exhibitors from 14 countries from the region and world and drew several thousands of visitors from multiple disciplines.

The Sri Lankan pavilion was opened by Ambassador of Sri Lanka to Thailand Samantha K. Jayasuriya and First Secretary (Commerce) of the Embassy Anil Sirimanna also joined her on this occasion.