---
South Asian Technologies Ltd, one of Sri Lanka's premier ICT distribution companies recently celebrated its tenth year of operations in Sri Lanka.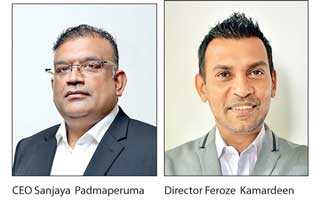 A journey that began a decade ago with its passionate co-founders, Sanjaya Padmaperuma and Feroze Kamardeen and an initial staff strength of 32 employees, saw the company rapidly grow over the years to top slot as one of Sri Lanka's leading providers of over 23 end-to-end ICT products and services.

The company has also successfully established itself to provide an optimum work environment for its talented employees to further fine-tune their skills and grow, free of discrimination over the last decade.

Having reached such immense expansion and growth over the last ten years, South Asian Technologies finds itself at the top, gearing Sri Lanka to be its best self, as a potential business hub, given the island's strategic geographical positioning and the Company's reliable next-gen solutions and services.

South Asian Technologies CEO Sanjaya Padmaperuma said, "We are humbled and very pleased to have reached this operational milestone. We have worked tirelessly to ensure that the position we have reached is a testament to the services we have provided over the last ten years. We sincerely believe that the success of any product we've distributed depends entirely on how well we have distributed it, may it be implementation or after sales services."

"We are dedicated to continue steadfastly in providing the best distribution of ICT solutions as we have thus far over the last decade. SAT holds the promise of optimal delivery of ICT solutions above all. We intend to ensure that all our successes transcend every level across all our stakeholders," added newly appointed Chief Operations Officer Harsha Liyanage.

South Asian Technologies Ltd is the master distributor of leading ICT brands such as Barracuda, Carbon Black, Commvault, Check Point, Help Systems, Kaspersky, McAfee, and Vision Solutions among many other software products.

The company is also the marketing partner of Risk Business, Mysis – Core Banking, Quantum Data Engines – Anti Money Laundering, FATCA (Foreign Account Tax Compliance Act), Fraud Management System, Aqua Global Solutions – e2gen, Manticore – IFRS (International Financial Reporting Standards) and is a key business partner for IBM.

Over the last decade, South Asian Technologies has made ground-breaking contributions to the IT sector in Sri Lanka by way of implementing sophisticated and state-of-the-art ICT solutions that are on par with leading global tech standards.

The company has been instrumental in providing its enterprise partner network with greater control, privacy and transparency over its personal data by creating a mutually beneficial exchange between companies and their customers providing infinite revenue-generating opportunities for businesses on the long run and thereby fostering overall growth in the IT sector.

In addition to its operations in Sri Lanka, South Asian Technologies has also established itself in Bangladesh, and Maldives, and works with a partner network of over 150 companies within the enterprise sector alone. With the rising middle class and tech start up boom happening across the continent and spilling across borders, South Asian Technologies provides its enterprise network with the tech know how and cyber security it requires to take on the local and regional economies.