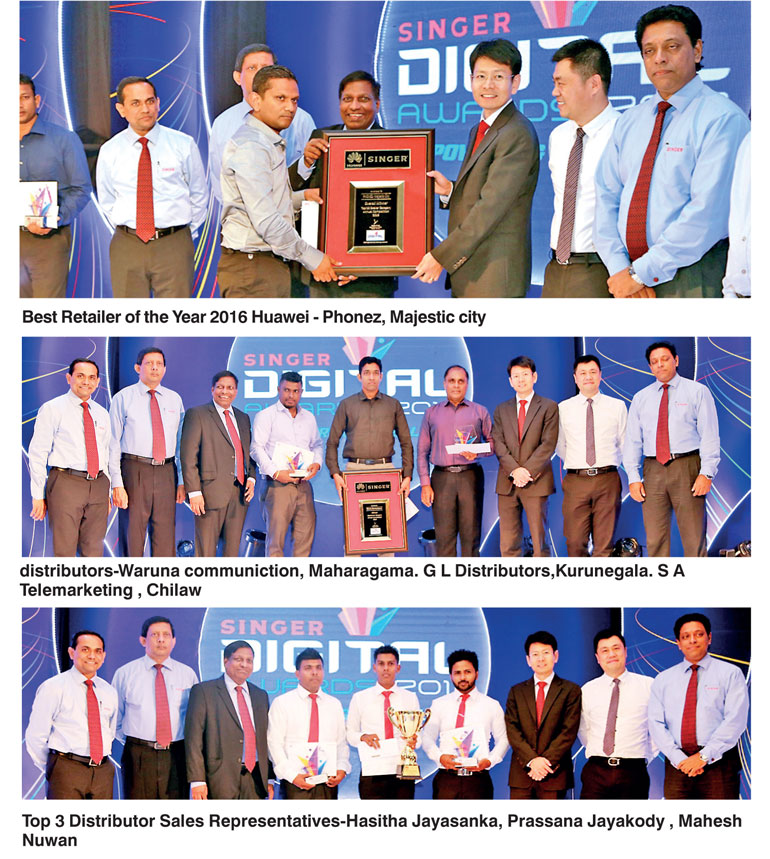 Singer Sri Lanka PLC, the country's leading retailer and distributor of branded household products and exclusive national distributor of the leading smartphone brand in Sri Lanka – Huawei, recognised their top performing dealers at the Singer Digital Awards 2017 gala celebration. The awards ceremony was conducted ceremoniously at Water's Edge under the patronage of Singer Sri Lanka CEO Asoka Pieris and Huawei Sri Lanka CEO Shunli Wang with the management of the two companies. The event was conceptualised to recognise and reward top performing retail partners of Singer for Huawei brand.

The event also provided an opportunity for dedicated Singer dealers to be felicitated and recognised within Singer Digital Media platform which comprises of Singer dealerships assigned to distribute Huawei Smartphone devices across the country. Singer has the largest dealer network for Huawei Smartphones and remains to be the leading distributor with over 1200 dealers spread island-wide. Company is also keen in empowering business excellence through evaluating the business partners to sustain the overall growth of Huawei brand.

Singer Sri Lanka Group CEO Asoka Pieris commented, "Singer's dealer sales network showcases a greater value add to our partners eco-system. These dealerships play an important role in liaising with customers, understanding their needs and all brand related transactions. Singer continues to drive the Digital Media spectrum with a key focus on the overall growth of all stakeholders whilst encouraging business success on a 'win-win' path."

Singer Sri Lanka is the most recognised and well-respected brand name in the country. Ever since Huawei decided to make its way into the local market, Singer Sri Lanka stood out as the ideal marketing and distributing partner for Huawei devices amongst the public. Coming on to their fifth year of business partnerships, the Digital Media Awards shows the extent of dedication through Singer's wide dealership network in realising the popularity of Huawei in Sri Lanka.

Huawei Sri Lanka CEO Shunli Wang stated, "Singer has been with us from the moment Huawei stepped into the Sri Lankan smartphone market in 2012. Singer's reputation in the market and their extensive retail network has helped us gain brand recognition from all Sri Lankans. Huawei has managed to come this far in a short period of time. We are sincerely thankful for all the hard work and support that has been bestowed towards Huawei and we look forward to work with the Singer Dealer Network very closely as we march towards the number one position in Sri Lanka's smartphone market by end of 2017."

Globally, Huawei has also garnered popularity as the leading telecommunications equipment manufacturer whilst also having been named the No. 2 smartphone brand in Sri Lanka with a local market share of over 30%. The Huawei retail network comprises of 19 Brand Stores located island wide. Huawei Smartphones are available through the country's largest retail network Singer which includes Singer Mega, Singer Plus and SISIL World stores, in over 400 retail outlets and Singer's digital media channel that serves 1200 digital media outlets across the country.