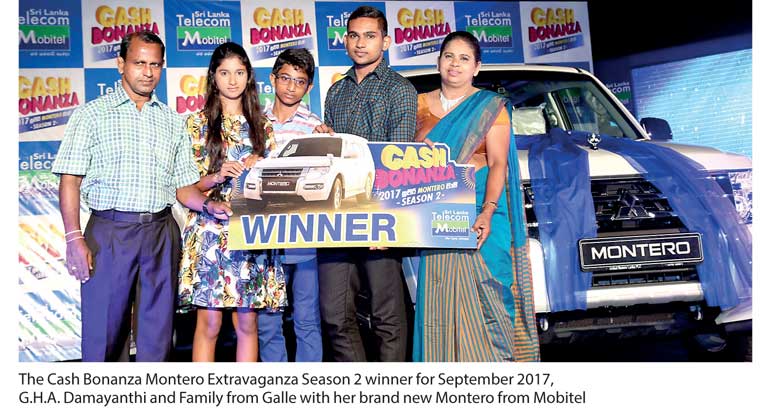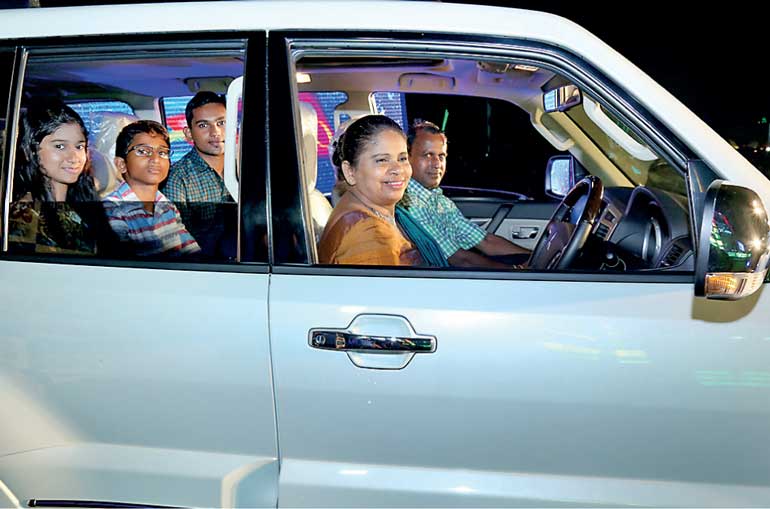 The national mobile service provider, Mobitel's Cash Bonanza Montero Extravaganza program continues to reach unprecedented heights in September, witnessing a growing number of customers participate as a result of the exciting prizes on offer. Mobitel announced G.H.A. Damayanthi from Galle as the lucky winner of the Cash Bonanza Montero Extravaganza for the month of September 2017.

Mobitel Senior General Manager Sales and Channel Development Chandika Vitharana handed over the prize on the occasion of the prize giving for September, which was held at the Kalawilawatta Grounds in Beruwala on 21 October. The event was made more joyous with a grand carnival followed by a musical show with the band 'Flashback' performing along with various other popular artists.

The winner drove off in his new luxury Montero awarded to him by Mobitel. The Cash Bonanza Montero Extravaganza has created immense excitement and anticipation amongst its customers, inspired by the gift of luxury Monteros. Three more Monteros will be given away by Mobitel in the remaining months of 2017. The promotion gifts 12 lucky winners with one luxury Montero over 12 months. In addition, Mobitel is awarding cash prizes of Rs. 500 each to a total of 219,000 lucky customers throughout the year. Mobitel customers will receive Rs. 350 million from the operator through 2017. Besides awarding the September winner with a brand new Montero, the Cash Bonanza Montero Extravaganza has awarded a total of 163,809 with prizes worth over Rs. 279 million up to September.

Coinciding with the Cash Bonanza Montero Extravaganza celebrations for September, a special 'Eye Clinic' was held for valued customers, where 1,000 customers were given spectacles free-of-charge along with an eye checkup conducted by qualified and experienced opticians, a testimonial to its corporate stewardship.

Besides the award-giving ceremony, carnival and musical show, other activities were also organised through the day for participants, including a kid's play area with entertainment and a variety of Mobitel products stalls for customers to experience the sheer range and scope of products and services offered by the operator. Customers could avail of special offers extended for the occasion, including the Upahara smartphone offer, gift items and more. Customer could also access a gaming zone offering the ultimate gaming experience, powered by Mobitel High Speed 4G Broadband connectivity.

Mobitel Pre-Paid, Post-Paid and Broadband customers are eligible for the Mobitel Cash Bonanza draw with every Rs. 50 cash recharge, reload or Post-Paid bill value payment. For the daily cash prizes, Pre-Paid winning customers will receive the prize by way of talk time for the same value and Post-Paid winning customers will receive the prize by way of a rebate on their Post-Paid bill. Cash Bonanza winners will only be notified via Mobitel's customer care hotline 071 27 55 777 and in writing via post. Customers will not be charged an additional fee for any prizes they have won.