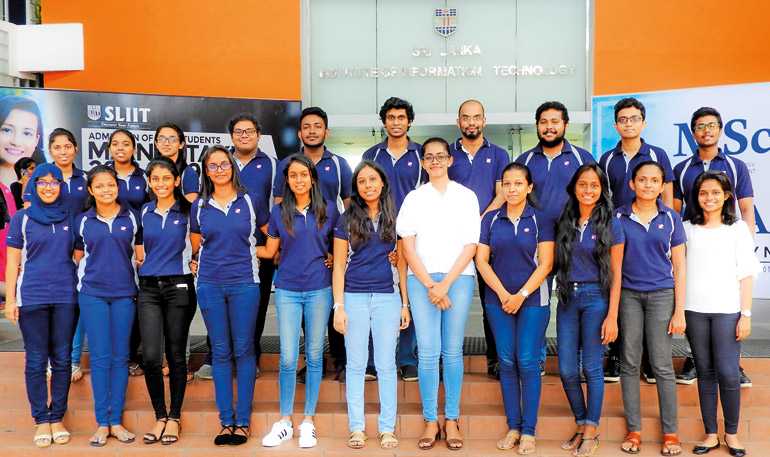 Best and brightest IFS scholarship recipients at SLIIT

SLIIT Institute
---
SLIIT, the nation's largest degree awarding institute in diverse disciplines – together with IFS, the globally recognised leader in developing enterprise applications software – continues empowering students through its unique scholarship scheme, ensuring students have a career head start while pursuing undergraduate studies.
For over a decade, in a proactive bid to support Sri Lanka's IT student base, IFS's support has enabled SLIIT students to achieve academic excellence and has opened vital pathways providing valuable industry exposure and the opportunity to become highly skilled and competent professionals.

Celebrating this unique partnership, SLIIT and IFS hosted foreign media personnel at SLIIT recently to further explain how students have truly benefitted from its continued scholarship program and internships.

During the tour, the visiting media were provided with in-depth views from both IFS and SLIIT senior teams to better understand how SLIIT is working proactively with the industry, together with the scholarship program, in nurturing aspiring future leaders and building a sustainable talent pipeline to support Sri Lanka's key strategic growth sector.

"As a leading global IT company in Sri Lanka, we firmly believe these students are gifted and have inherent abilities that will help them to grow into outstanding IT professionals. We take pride as an employer to provide SLIIT students an avenue for them to fulfil their dreams and become part of the success enablers of our company and industry," noted IFS Director – HR and Administration Pubudu Liyanage.

To date, IFS has awarded over 70 scholarships to SLIIT students. This year alone, over a dozen of scholarships have been awarded.

"We value our ongoing partnership with IFS in enabling students to fulfil their dreams of pursuing higher education while offering career progression opportunities to one of the world's leading high-tech and innovative companies," said SLIIT Head – Department of Software Engineering/Coordinator for SLIIT-IFS scholarship scheme Nuwan Kodagoda.

Apart from the scholarships, IFS also offers nine months to one year internships to SLIIT undergraduates. Currently, there are over 30 SLIIT undergraduates working as interns.

The experience gained during the internship together with individual academic achievements position the students to become future leaders of the IT industry.

Additionally, a vast majority of these undergraduates receive permanent employment at the company, with nearly 18% of IFS's current staff being SLIIT alumni.

"As a SLIIT alumnus, I fully understand the advantages and experience an IFS's scholarship brings. In addition to focusing on student employability, it enhances the ability to perform in a real working environment. Through the SLIIT-IFS scholarship scheme, we provide an opportunity for students to pursue a relevant degree while gaining valuable work experience in parallel, and thereby grooming the necessary talents for our future growth," noted IFS Principal Software Engineer Ruwan Fernando.

SLIIT recognises the importance of establishing early contact with working environments as a key enabler towards students' progressive education and professional development. It is estimated that 65% of the IT professionals in Sri Lanka have gained their education and training from SLIIT. Further, 93% of SLIIT students who aspire to get into the profession have the ability to secure employment in the field through various internship and apprenticeship programs at the time of the graduation.

With several in-house internships, industry partners, collaborators and special industry programs, facilities and qualified staff, SLIIT stands testament as an institution of higher learning and immense contribution towards shaping the IT landscape in Sri Lanka.