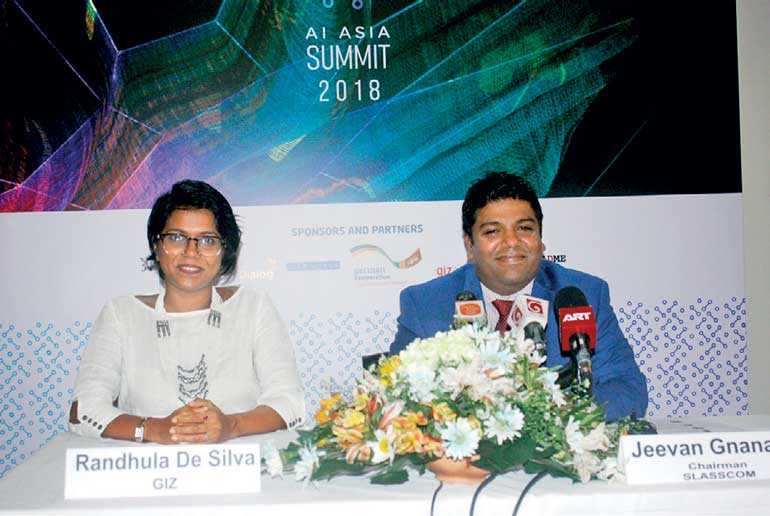 SME Sector Development Programme Cheif Disruptor Randhula de Silva and SLASSCOM Chairman Jeevan Gnanam
By Divya Thotawatte

In an effort to promote the Artificial Intelligence (AI)industry in the country, the Sri Lanka Association for Software and Services Companies (SLASSCOM) recently announced the first-ever AI Asia Summit to be held on 7 November.

The summitis Sri Lanka's first conference dedicated to the topics of data science and machine learning and will be based on the vital theme of the development in artificial intelligence across application, research and adoption.

"The AI industry is growing very fast and it is close to becoming a trillion dollar industry by the end of next year. Global companies like Google and Facebook are focusing on data science and AI in the future because data is considered the new gold and the amount of information that can be used by data is increasingly becoming the focus of more IT companies. Business models based on data science are increasing rapidly and this is an opportunity for us to become relevant in the market," SLASSCOM Chairman JeevanGnanam stated.

SLASSCOM AI Asia Summit is to feature acclaimed international and local speakers including, DHL Asia Pacific Data Analytics Head Timothy Kooi,MediaTek Senior Technology Director Dr. YasanthaRajakarunanayake, SimCentric Technologies CEO Dr. Adam Easton, Boutique Data Consultancy Founder Dr. James Shanahan, Applied Machine Learning Scientist Dr. RukshanBatuwita, and Senior Research Scientist at Google DeepMind Dr. Chrishantha Fernando.

Gnanam further stated, "Sri Lanka for the last two decades has relied on two main pillars for its IT/BPM export; that is Software Development and Finance and Accounting. This strategy has served us well as we grew 23% CAGR year on year for the last decade. However, times are changing. As a middle-income country we need to shift gears and look at increasing the diversity of our export-based basket of goods while climbing up the value chain. It's time to introduce a new pillar, one that offers exponential gains, the third pillar of Data Science and AI as this provides Sri Lanka with the opportunity in the next few years to lay the solid foundations of being an important thought leader in South Asian context."

The AI Asia summit is to help provide Sri Lanka with the opportunity to move beyond providing labour arbitrage solutions to becoming a true provider for clients and stakeholders while raising awareness across the industry, government, universities and private institutions of the opportunity ahead and what must be done now, in order to make it a reality. The event is to conclude with the release of a Proposed AI Policy which will outline Sri Lanka's vision for the next five years. The event will be hosted at the Kingsbury from 8:30 a.m. to 5:30 p.m.